Portland stayed attractive for investors throughout last year, as the metro provides well paid tech jobs and maintains a moderate cost of living. After a very active 2017 for investment, when several top-of-the-line office buildings found new owners, buyers turned their attention toward value-add opportunities suitable for renovations. Although the most popular submarkets remained the CBD and Pearl District, as opportunities become limited, areas such as Old Town-Chinatown have begun to attract capital. Two important sales closed in the submarket through November totaling more than $100 million. One of the properties involved, 38 Davis, ranked #4 in the top 10 office transactions list featured below.
According to Yardi Matrix data, 35 office properties changed hands in the metro through 2018's first 11 months, totaling more than 3.3 million square feet. The total sales volume, however, dipped to approximately $670 million as, with a few exceptions, the majority of sales remained under the $50 million benchmark.
5. Historic US National Bank Block ($53.9 million)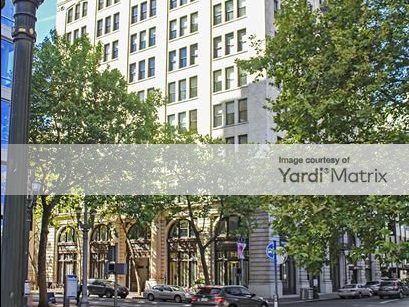 The downtown building changed hands in the first quarter after four years of ownership under ScanlanKemperBard Cos. The new owner is Westport Capital Partners, with property management duties handled by Interurban. The 208,000 square-foot office building is located at 309 S.W. 6th Ave. and has major exposure on S.W. Broadway. Development began in 1906 and was continued during three other phases: 1917, 1925 and 1956. The property was renovated twice, in 1999 and 2015, and has approximately 85,000 square feet available for lease. Kidder Mathews is the leasing manager.
4. 38 Davis ($54.3 million)
Unico Properties, Portland's top office buyer in 2018, bought 38 Davis at the beginning of 2018 from Gerding Edlen for $54.3 million. The 90,991 square-foot property was completed in 2015 and features 5,400 square feet of ground floor retail space, as well as 35,000 square feet of residential space at its top two floors. Part of the acquisition price was covered via a $32 million loan provided by Thrivent Financial. Apex Real Estate is in charge of leasing and managing the building at 38 N.W. Davis St.
3. Towne Storage Building ($62.8 million)
Originally a paper mill, the Towne Storage Building was completed in 1916 and was converted to office last year, when Westport Capital Partners sold it to CBRE Global Investors for $62.8 million. NKF Capital Markets arranged the deal on behalf of the seller. Located at 17 S.E. 3rd Ave., in the Central Eastside submarket, the 100,000 square-foot property provides exposure on Ankeny and East Burnside Bridge streets. Immediately prior to its repositioning, it used to provide mini storage units and rentable space for artists and small businesses. It is currently fully leased by Autodesk Inc.
2. 9North ($76.6 million)
Another 2018 delivery on the Portland commercial real estate market, 9North entered CBRE Global Investors' portfolio in October, just before its official opening. The 183,000 square-foot building is located at 1250 N.W. 9th Ave. in the popular Pearl District submarket and is almost entirely available for lease. It includes more than 5,000 square feet of retail space as well as an on-site conference center, rooftop terrace, fitness center, bike parking and a bike repair station. The seller is Miller Global Properties Fund, which had tapped developer William & Dame, Hacker Architects, GBD Architects and Howard S. Wright Construction to deliver the asset. Floor plates go from 19,600 to 28,800 square feet.
1. Moda Tower ($180 million)
In the fall, Unico Properties, also the owner of Congress Center, closed another strong office sale in Portland, the largest transaction in the metro year-to-date. The company paid $180 million to UBS Realty Investors for the 400,000 square-foot downtown office building. Completed in 1998 at 601 S.W. 2nd Ave., Moda Tower underwent cosmetic renovations in 2009 and later became LEED certified to the Silver level. The property includes 20,000 square feet of retail space on the first two floors and has approximately 40,000 square feet of space available for lease. Floor plates encompass 21,664 square feet.
Images courtesy of Yardi Matrix