By Mallory Bulman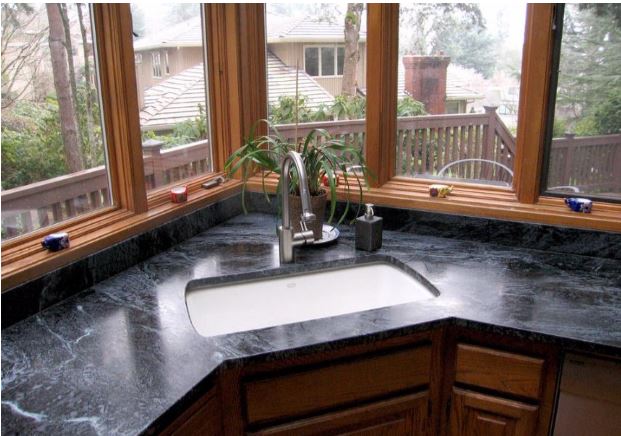 Luxury homes, Greek statues and even the Taj Mahal tout marble. Class A apartment communities, commercial building facades and public plazas brag about the use of granite. Natural stone is an easy choice for developers and architects because of its durability and unique variations. With different colors, patterns and textures, natural stone has a distinct look that can't compare with anything manufactured.
However, marble is expensive and less durable, and granite is losing its luster as an increasing number of properties use it for countertops, fireplaces, steps, terraces and more. Enter soapstone: the long under-rated product is being promoted by the Natural Stone Institute as the next big thing for both outdoor and indoor uses.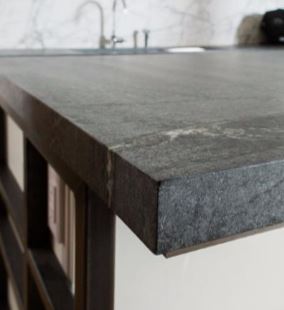 Here are a few reasons why the organization is endorsing soapstone:
Aesthetics: Like marble or granite, soapstone can take on a broad range of tonalities, patterns and textures. In its natural state, it usually has a cool, grayish tone, but when waxed or enhanced, it deepens to a rich black. In some cases, idiosyncrasies like veining or quartz flecks within the stone can make it appear to have bluish or green undertones. Subtle in pattern and color, soapstone can complement a variety of finishes and textures without overwhelming a space.
Functionality: The nonporous aspect of soapstone means that it doesn't stain, and it rejects acids like wine, lemon juice and cleansers. As it mostly comprises talc, soapstone is softer than marble and granite, making it naturally chip resistant. If it does become damaged, its slightly softer composition makes it easy to repair chips, scratches or blemishes with sandpaper. It is highly durable and almost maintenance free, making it a worthwhile choice for high-traffic commercial spaces. Also, as it ages, it develops a distinctive character and finish.
Versatility: Soapstone can efficiently absorb and radiate heat, making it well-suited for outdoor kitchen countertops, pizza ovens or fireplace surrounds. It's also used for everyday applications like tile, flooring, backsplashes and sinks. It also works well for outdoor and pool applications because it does not get slippery when wet. 
Eco-friendliness: Soapstone doesn't require sealing and can be salvaged for use in other projects or recycled at the end of its life cycle. 
Photos courtesy of the Natural Stone Institute