By Balazs Szekely, Associate Editor
More than 20,000 square feet of premium Class A office space will soon welcome new-to-market tenants in a 30-story green office tower in Miami's urban core. The ownership of Sabadell Financial Center has signed new leases with three companies that are new to the Miami scene. In addition, two extant tenants have renewed their lease agreements at the same time, pushing the grand total to 25,480 square feet. This also marks nearly 50,000 square feet of transactions finalized at the office building this year to date.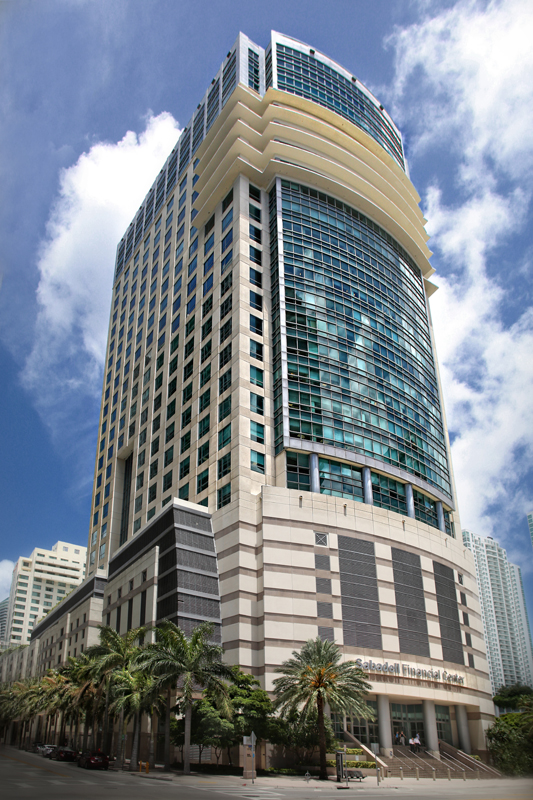 The facility's newest tenants include national law firm Kelley Kronenberg (14,699 square feet); ABS Holdings (4,040 square feet); and oil refinery company Metals Inc. (1,466 square feet). Additionally, insurance brokerage Howden (3,336 square feet) and financial services firm Canepa (1,939 square feet) both renewed leases. Tere Blanca, Danet Linares and Juan Ruiz of Blanca Commercial Real Estate represented the Sabadell Financial Center's ownership in the transactions. Shay Pope of CBRE and Brad Chrischilles of CNL Commercial Real Estate represented Kelley Kronenberg; Rashid Siahpoosh of Newmark Grubb Knight Frank represented ABS Holdings; and Pedro Hernandez of Engel & Völkers represented Metals, Inc. Financial terms of the agreements were not disclosed.
Sabadell Financial Center is also home to companies like Sabadell United Bank, Telefonica USA, Ferragamo, Regus, and the law firms of Hunton & Williams and Baker & McKenzie. Apart from its LEED Gold certification, the building was recently awarded The Building Owners and Managers Association (BOMA) Miami-Dade's 2015 The Outstanding Building of the Year (TOBY) Earth Award, which recognizes environmentally-sound office buildings with management practices that efficiently implement and enhance green and sustainable programs.