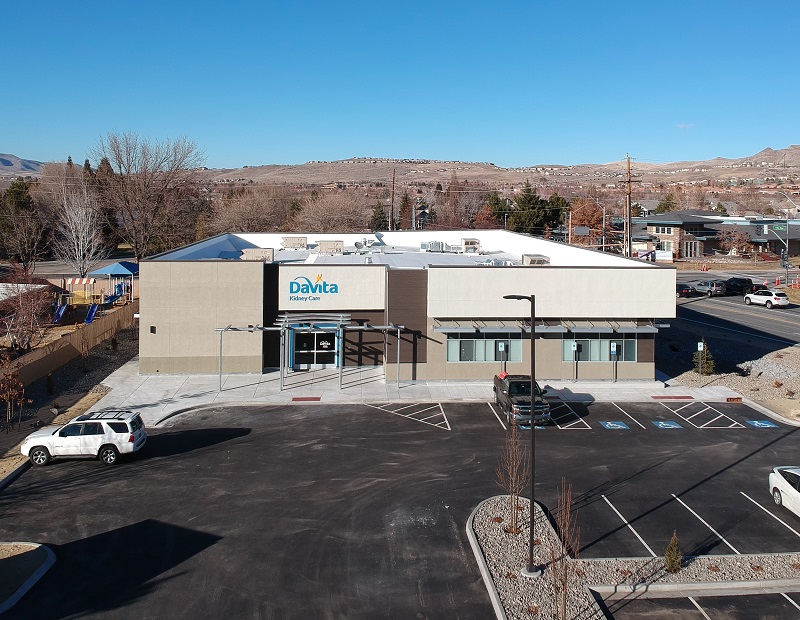 Mitchell Asset Group Inc. has completed construction on a 10,500-square-foot medical office facility in Sparks, Nev., and sold it to a private buyer. The property is fully leased to DaVita Kidney Care center, which has been expanding throughout the state after acquiring the WellHealth Quality Care network in 2017.
DaVita signed a 15-year lease at the completion of the new facility, the latest in a series of health-care centers that Mitchell Asset developed for the company. The project designer was Harriman Kinyon Architects, while the contractor was Frank Lepori Construction, a local company.
The medical office facility is located at 777 Vista Blvd., at the corner of East Prater Way and Vista Boulevard, within the Sparks Transit-Oriented Development Corridor. The busy medical community also includes the Renown Health Urgent Center, Northern Nevada Medical Center and Spine Nevada Clinic.
The property can be accessed via Interstate 80. The nearby area's population surpasses 100,000 as a result of an employment boom triggered by companies such as Tesla, Apple and Google. The economic expansion has also prompted demand for medical services in a state ranked 47th in the U.S. for its number of primary care physicians per 100,000 people, according to a recent report from the University of Nevada, Reno's School of Medicine.
"We broke ground on the Vista Boulevard site in late 2017 and completed the facility ahead of schedule in March 2019. We generally develop for our own account and do not sell, but in this case were approached by a private buyer who desired to close on the acquisition at completion," Dax Mitchell, president of Mitchell Asset Group, said in a prepared statement.
According to a third-quarter report released by The Boulder Group in 2018, acquisition yields for single-tenant, net-lease medical properties increased by 22 basis points year-over-year.