March 6, 2012
By Nicholas Ziegler, News Editor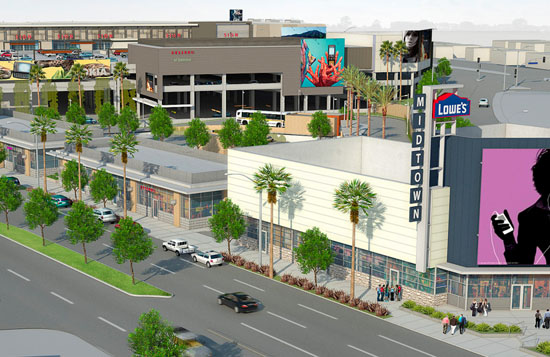 Developer CIM Group has completed construction of the 330,000-square-foot Midtown Crossing retail center in Mid-City Los Angeles, which targets the more than 1.3 million residents within a five-mile radius.
"Midtown Crossing brings a much needed retail center to this community, and it will also create hundreds of new jobs for our residents as well as new revenue for the city," Antonio Villaraigosa, the mayor of Los Angeles, said.  "This is a welcome addition to Los Angeles, and I am proud of the city's leadership in championing this transformation of what had long been a vacant and dilapidated property into this vital new commercial center."
The development features a stacked design to take advantage of the site's different elevations, and the developer claims the project will bring more approximately 800 new jobs to the area. A Lowes Home Improvement Center, along with Starbucks, Wells Fargo Bank and other retailers, opened on Feb. 1. CIM is in discussions with several potential tenants for the remaining restaurant and retail spaces.
In May 2010, the Los Angeles City Council approved a plan jumpstart the then-stalled shopping center, with a package of city loans and subsidies for the project worth $34 million, according to the Los Angeles Times.
Situated on 11 acres in Los Angeles, Midtown Crossing is a multi-level transit-oriented shopping center. Prior to redevelopment, the site was an underutilized lot occupied by an obsolete Sears store and Builders Emporium. The project includes 350,000 square feet of retail, as well as a new MTA bus transfer station with a 12 bus capacity.
The project has not been without its difficulties, however. In August of last year, LA Weekly reported that CIM and the neighborhood association were at odds over the development's general aesthetics. Some residents were unhappy with the complex's big-box elements, claiming that the developer ignored requirements by the Los Angeles Planning Commission, while CIM maintained that it followed all guidelines.