By IvyLee Rosario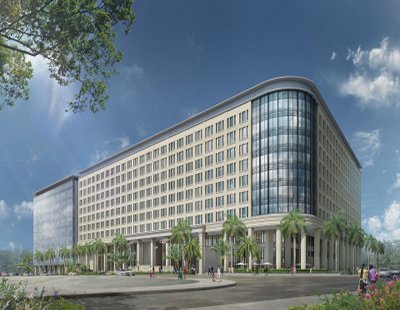 Hotel Okura Co. unveiled plans to open The Okura Prestige Yangon in 2020, the first Okura Hotels & Resorts property in Myanmar. 
Operation and management for the hotel are set to be run by a local alliance comprising Fujita Corp., Tokyo Tatemono Co., Japan Overseas Infrastructure Investment Corp. for Transport & Urban Development and Yangon Technical & Trading Co., a subsidiary of Ayeyar Hinthar Holdings Co.
Luxurious TOD
The 390-key luxury hotel will be constructed on the site of the former Defense Services Museum, within a commercial complex set to include both office and retail. The Okura Prestige Yangon will feature conference rooms, banquet halls, a Japanese restaurant, lounge bar, all-day dining options and an executive lounge with views of the golden-domed Shwedagon Pagoda. The development is within walking distance of the Yangon Central railway station. 
The property is part of Hotel Okura's effort to expand its global portfolio to 100 properties in Asia by 2020. Okura Nikko Hotel Management, a subsidiary of Hotel Okura, currently has seven properties planned for the outside of Japan, including The Okura Prestige Yangon. These include four Okura Hotels & Resorts properties opening in Cappadocia in 2018 and Manila, Phnom Penh and Saigon in 2020, and two Nikko Hotels International properties opening in Bangkok in 2018 and Hai Phong in 2020.
Image courtesy of Hotel Okura Co.