By Gail Kalinoski, Contributing Editor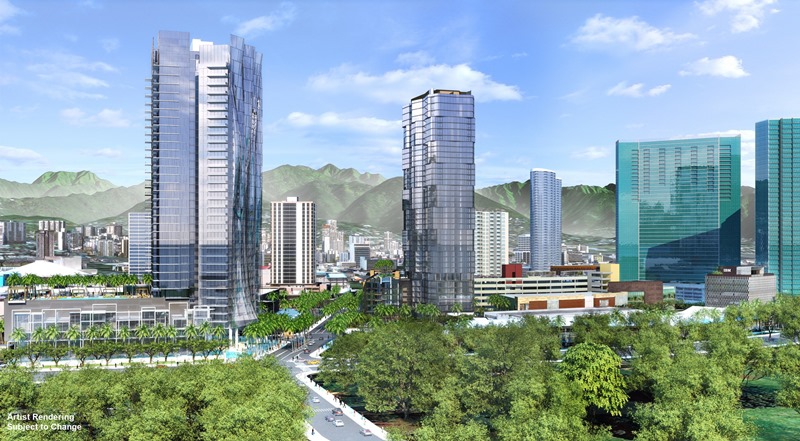 Phase One of Ward Village, a massive mixed-use complex planned for 60 acres between downtown Honolulu and Waikiki, got a big boost this week when the Hawaii Community Development Authority approved two more towers to be built by the Howard Hughes Corp.
The towers will bring nearly 500 residential units and street retail, the first of what will eventually be more than 4,000 residential units and more than 1 million square feet of retail and commercial space. Phase One, which is expected to be completed in 2016, will also include development of a sales and information center in the iconic IBM building and a third residential tower. It will have a local economic impact of more than $1.25 billion and will create thousands of direct and indirect jobs for Oahu, according to a study by ALH Urban & Regional Economics. Once built out, the entire Ward Village is expected to generate $7.5 billion in economic impact, the study estimated.
The two towers are split into Land Block 2 and Land Block 3 projects. The Land Block 2 development will be built on Ala Moana Boulevard at Kamake'e Street and will have 171 residences. They will include one-, two- and three-bedroom market-rate units and about 10 townhomes. The Land Block 3 project on the corner of Auahi and Kamake'e streets will have 312 units ranging from one- to three-bedroom layouts and include 82 apartments and townhomes. Retail will be featured in the Land Block 3 project.
A third tower expected to have 424 units of affordable housing received HCDA approval in late July. The development of the 38-story building with affordable units fulfills a requirement that allows the two market-rate residential towers to be constructed.
Sales for the Phase One residences are expected to begin soon, according to a release from the Dallas-based development firm.
"We are ready to move forward with Phase One for Ward Village," Nick Vanderboom, senior vice president of development for the Howard Hughes Corp., said in the news release. "The redevelopment is a one-of-a-kind opportunity to invest in Hawaii's future by creating a community that embraces complete streets, best practices in sustainability and healthy lifestyles."
In January 2011, the Howard Hughes Corp. entered into a development agreement with the HCDA, which allowed up to 9.3 million square feet of mixed-use development. The corporation already owned the Ward Centers retail area, which it had assumed ownership of from General Growth Properties in 2010. Since then, the developer has been working closely with civic and community leaders to incorporate design features that preserve mountain and ocean views and create pedestrian friendly streets and public spaces. The corporation, which owns, manages and develops commercial, residential and mixed-use real estate in the U.S., including several master-planned communities, is seeking LEED-ND (neighborhood design) status. Planned sustainability features include installing flexible cooling systems to reduce energy use and covering more than half the rooftops with landscaping or solar-reflective materials.
Over the next decade, Ward Centers in the historic Kaka'ako section of Honolulu will evolve into Ward Village.
"Our vision for Ward Village is to create an urban, master-planned community which offers an exceptional living environment while honoring the area's rich history and culture," David Weinreb, CEO of the Howard Hughes Corp., said in the release. "Beyond being one of the most significant assets, this redevelopment is already serving as a catalyst for the revitalization of Kaka'ako."
Last September, the developer announced it would begin moving some major retailers out of Ward Centers into new, larger stores at Ward Village Shops, as the new shopping area begins to take shape. Pier 1 Imports will occupy 12,688 square feet in the 57,000-square-foot, two-level retail center. Also relocating is Nordstrom, Inc., which is moving its Rack store from Ward Centers to a larger space, 45,000 square feet, at Ward Village Shops