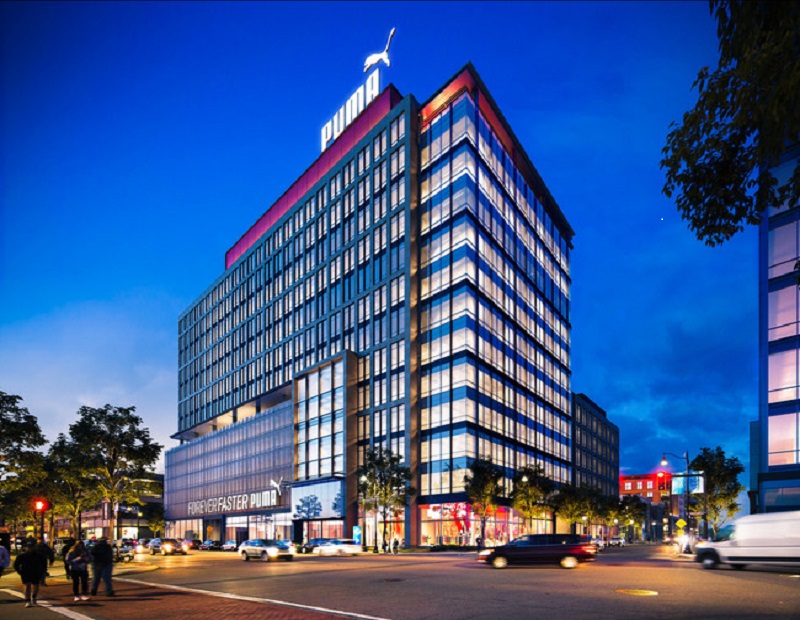 Federal Realty Investment Trust has inked a long-term lease with PUMA North America to occupy space at its new office property in Assembly Row, a mixed-use neighborhood in Boston's submarket of Somerville.
PUMA North America will lease 150,000 square feet at the 300,000-square-foot building that will be located at 455 Grand Union Blvd. The 13-story property will offer 550 parking spaces and 25,000 square feet of ground floor retail. The office space is currently under construction. Upon completion in 2021, the project will house 450 employees from PUMA's offices in Boston and from its current headquarters in Westford, Mass.
"We have spent the past 10 years working with the City of Somerville to create a dynamic neighborhood that attracts world class companies," said Patrick McMahon, vice president development at Federal Realty Investment Trust, in a prepared statement. "We are excited that PUMA has placed long-term value on the Assembly Row location, our expansive array of high-quality amenities, vibrant mix of uses and direct access to the T and highway. We look forward to welcoming the PUMA team with our more than 10 soccer field's worth of amenities and watching PUMA sustain its position as an international leader in the sports brand world."
Phase three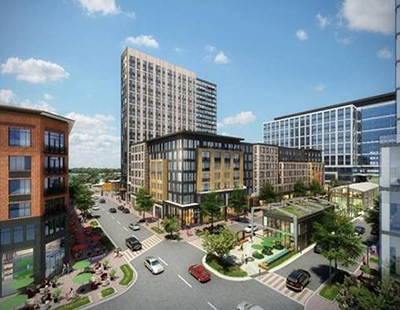 In addition, the firm is launching phase three of the development, which will include a residential property with ground-level retail. The estimated investment in phase three is expected to be $475 million. Upon completion, the entire investment in Assembly Row will total $1.2 billion.
The new residential tower will stand 24 stories and offer 500 units, as well as 30,000 square feet of retail space. Located across from the Assembly T Station, the building will begin preleasing in early 2021 and feature amenities such as a 24th floor rooftop deck and coworking style pods.
Assembly Row is home to more than 1,300 residents, as well as an office building at 450 Artisan Way, and another property that currently houses Partners Healthcare's corporate headquarters. The finished project will include more than 55 shops, 1,514 residential units, The Row Hotel at Assembly Row, 22 restaurants and 1.1 million square feet of Class A office space. There is also a portion of 1.5 million square feet of commercial space and 329 residential units with remaining entitlements. The neighborhood is within close proximity to Interstate 93 and offers access to shopping, amenities, entertainment, services and conveniences, as well as downtown Boston.
Earlier this month, Federal Realty Investment Trust secured a 42,883-square-foot lease with coworking company Spaces, which will be the anchor tenant at One CocoWalk, the office component of Coconut Grove's CocoWalk lifestyle center in Miami.
Renderings courtesy of Federal Realty Investment Trust