By Dees Stribling, Contributing Editor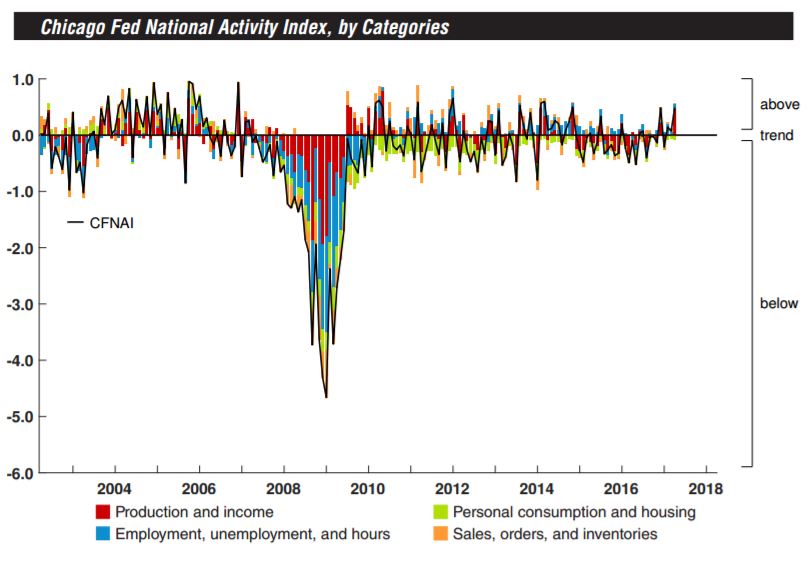 Led by improvements in production-related indicators—U.S. manufacturing, especially—the Chicago Fed National Activity Index (CFNAI) rose to +0.49 in April from +0.07 in March, according to the Chicago Fed on Monday. Two of the four broad categories of indicators that make up the index increased from March, and only one category (personal consumption and housing) made a negative contribution to the index in April.
The index is a weighted average of 85 indicators of growth in national economic activity drawn from four broad categories of data: production and income; employment, unemployment and hours; personal consumption and housing; and sales, orders and inventories. Zero means the economy is growing at historic norms, while negative points to slower growth and positive to higher growth.
The contribution from production-related indicators to the CFNAI rose to +0.46 in April from +0.01 in March. Total industrial production increased 1 percent in April after moving up 0.4 percent in March, and manufacturing production increased 1 percent in April after decreasing 0.4 percent during the previous month. Employment-related indicators contributed +0.10 to the CFNAI in April.
The index's three-month moving average, known as the CFNAI-MA3, increased to +0.23 in April from a neutral reading in March, reported the Chicago Fed, which also points to higher growth. In some ways, the three-month reading offers a clearer picture of direction of the economy, since it smooths out some of the gyrations of the monthly readings.