February 11, 2010
By Dees Stribling, Contributing Editor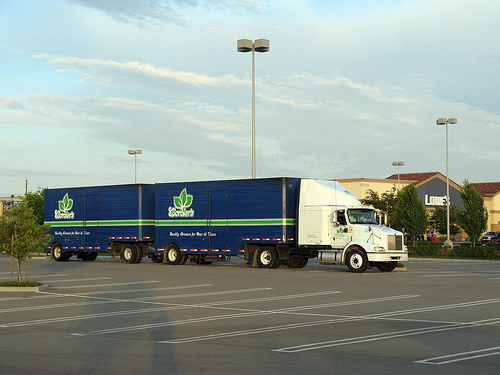 There's a new kid in town in terms of economic measurements: the Ceridian-UCLA Pulse of Commerce Index. It was released to the public for the first time on Wednesday by the University of California-Los Angeles Anderson School of Management. For the three months ending in January, the index recorded 3.3 percent annualized growth for the U.S. economy.
The index is based on anonymous diesel fuel consumption data from trucking companies nationwide that use Ceridian cards to buy fuel. The data pinpoints the volume and location of diesel fuel being purchased, thus providing a detailed picture of the movement of products across the country. The Ceridian-UCLA index thus could be considered a reliable leading indicator for industrial production data, a useful coincident economic indicator. Indirectly, it could also point to strengthening or weakening demand for warehousing/distribution space.
"Ceridian has had this kind of data for years, and about a year ago decided that it might form the basis for an economic index," Craig Manson, senior vice president of investor relations and business development for Ceridian, told CPE. "The advantage is that it's a in real time, unlike higher unemployment claims, for example, which happen after a downtown has already started."
With the help of a team of number-crunchers from UCLA Anderson School, Ceridian was able to examine diesel fuel transactional data going back 10 years and retrospectively created a long-term index — which turned out to be a reasonably good mirror of economic downturns and rebounds, since fuel use for trucking correlates with economic activity. For instance, the index began to drop rapidly in early 2008, presaging the abrupt drop in industrial output that accelerated in August 2008. Similarly, the index turned higher beginning in March 2009, anticipating the rise in industrial production that began in July.
Grave-Dancing REITs?
Investors are eager these days to build war chests for the time when more commercial property owners will be ready to sell–or better yet, when more owners will feel that they have to sell. Two public offerings by REITs debuted on Wednesday with exactly that plan in mind, thought the reaction of the market was mixed.
Atlanta-based Piedmont Office Realty Trust Inc., which specializes in office buildings in major U.S. metro markets, had an offering price of $14.50 a share, but opened 1.7 above that price, and ended the day at $15.60 a share, or 7.6 percent over opening price.
By contrast, San Francisco-based Terreno Realty Corp. began by dropping below its offering price of $20 a share, and closed down 6.8 percent off that price. Observers chalked up the difference in reaction to the fact that Terreno has plans to buy U.S. industrial real estate, but no track record yet. Piedmont, on the other hand, is a known quantity whose portfolio already includes 73 properties.
JLL Reports Office Markets Still Tough
According to Jones Lang LaSalle's 4Q09 North American Office Report released on Wednesday, there are a few glimmers of hope for major office markets in the U.S. and Canada, but only a few–fundamentals are still weak. One glimmer is the fact that sublease vacancy levels nationally dropped for the first time since June 2007 due to increased leasing activity on discounted space; a pullback on space companies had previously placed on the market; and the expiration of some sublease terms that returned to the landlord as direct space.
Still, if you're an office landlord, times are hard indeed. The fourth of quarter of 2009 was the sixth consecutive quarter that landlords dropped asking rents in order to drum up demand, noted JLL.
The report predicts that as vacancy approaches 20 percent, peak-to-trough asking rent declines will be in excess of 15 percent, while net effective rent declines will come close to 20 percent across geographies. However, by year-end 2010, landlords will gradually begin to gain confidence and stabilize rents, before employment growth becomes consistent by mid-2011.
Wall Street slumped for most of the day on Tuesday, but nearly came out even at the end of the trading day. The Dow Jones Industrial Average was down 20.26 points, or 0.2 percent, while the S&P 500 and the Nasdaq lost 0.22 percent and 0.14 percent, respectively.