By Anna Spiewak, News Editor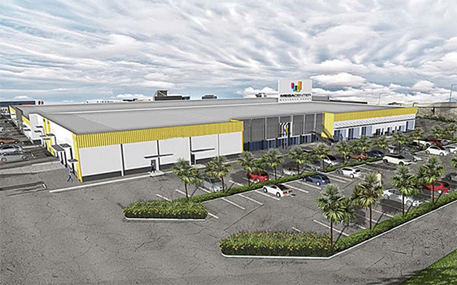 Chilean company Red Megacentro is tapping into the U.S. market with its very first American redevelopment project, a 185,000-square-foot mixed-use facility in Miami.
The project, Megacenter Palmetto is made up of warehouse/flex spaces starting at 4,000 square feet, self-storage units and full-service executive office suits. The property is located in the southeast corner of the intersection of Palmetto Expressway and Okeechobee Road, nearby the Miami International Airport, Dolphin Expressway and Florida's Turnpike.
Pablo Wichmann, CEO at Megacenter Business Parks, the subsidiary company responsible for the redevelopment of the Megacenter Palmetto project, told Commercial Property Executive "geographic diversification and opportunities for value creation" were the reasons for the Chilean company's decision to venture into the U.S. market.
The property, formerly occupied by Regal Kitchens, was purchased by Megacenter in January 2013, according to the company's spokesperson. Megacenter Palmetto has been entirely renovated inside and out, to help enhance its exposure to tenants. The building is already 70 percent leased to companies such as: K1 Speed, Dax International and Dr. Battery, according to Wichmann. More occupancy by prospective tenants is expected to occur upon completion of the renovation.
The developer is seeking "small bay users and start-up companies" as potential tenants.
"We can accommodate any small to medium size (business) with a mix of office, self storage units and out small bay warehouse," Wichmann added. "We offer flexibility for small tenants, with full services (unloading areas, temporary expansion possibilities, etc."
Red Megacentro has more than 7.5 million square feet currently in operation throughout Chile, Peru and now Miami. The Latin American company's expansion plan considers opening two to four projects per year over the next five years. Megacentro mainly focuses on redevelopments rather than building from scratch, Wichmann concluded.