Expert Insights: Lance Shoemaker on the Commercial Real Estate Industry in 2023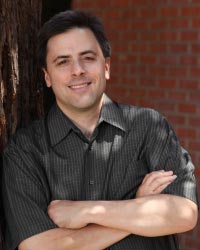 For this edition of our Expert Insights series, we had the pleasure of chatting with Lance Shoemaker, business and real estate instructor at West Valley College in Saratoga, California. Mr. Shoemaker has a master's degree in city and regional planning and has been a member of the California State Bar since 1999.
As an attorney, he has represented both private and public clients, with cases ranging from general transactional work to outdoor advertising, to lease negotiations, environmental contamination, and land use. Mr. Shoemaker's real estate experience includes negotiations, documentation and due diligence, redevelopment and property management, code enforcement, and much more.
We asked him to tell us more about his passion for real estate, what he thinks about the current state of the industry, and where he thinks it will go next. Read on to find out more.
Q. Tell us about your background and why you chose a career in teaching real estate.
My areas of specialty are real estate, land use, and local government law. I've been teaching real estate since 2004, when I took a chance and applied for a teaching position at a local community college. It was a bit of a risk, but I ended up loving teaching and applying what I've learned in representing clients to the classroom.
Q. What is the #1 challenge that the office market will be facing in 2023?
Figuring out to what extent we will go back to a pre-COVID workplace model. I don't think anyone thinks it will completely go back to the way it was, so the question is, to what extent will workers come back to the office? To the extent they come back to the office, will they work full-time in the office or mix it up with working from home?
Q. What differentiates the commercial real estate market in California from other major markets in the United States?
I've recently seen statistics on weekly occupancy rates of commercial property in downtown cores in various metropolitan areas around the country. California has some of the lowest occupancy rates in the country. One can easily see this in downtown San Francisco, which sometimes feels a bit like a ghost town. California's economy is disproportionately weighted toward technology companies, and technology companies have been some of the most enthusiastic to embrace a work-from-home model. California may be slower to see a return to work of office workers than other areas in the country.
Q. How have the previous two years transformed the CRE market?
One only has to look at occupancy rates of commercial property. What remains to be seen is just how lasting this change will be and to what extent it will continue. Commercial landlords will have to adapt to a new model whereby people spend more and more time splitting their work from home and from the office. There also may be a shift of some commercial properties to be used for other purposes, such as medical offices, government offices or even housing.
Q. How have you seen the industry evolve in the last 10 years?
It's been interesting to watch the commercial real estate market recover from the Great Recession of 2008, do very well during the teens and then completely be thrown for a loop by the pandemic. I don't think I've ever seen in my professional career such a drastic change to commercial real estate as we've seen in the past three years. Interestingly, residential real estate was not negatively affected by the pandemic for the most part. That's partly due to the fact that so many people were working from home, so there was much more demand for housing, which meant there was less demand for commercial real estate.
Q. Where do you see it going in the future?
I don't think we'll ever see occupancy rates as high as they were pre-pandemic. But, I do think more and more people are going back to work in the office. But, that also may be industry-specific. In the technology industry, the return-to-work ratios will probably be lower than in other industries, such as law, finance and other fields. Landlords will need to be flexible and understand that the commercial real estate needs of past tenants will probably be less than before, and landlords need to be adaptable.
Q. Are there any lessons from the past few years that you would impart as an absolute must for those looking to get into the CRE industry?
Be flexible. Recognize that companies may be looking for more flexible space, more space for hoteling. We don't know yet to what extent employers and employees will want to go back to the old model of having private offices. The open workplace plan may be unappealing to those who continue to have concerns about future pandemics.
Q. What innovations will enable a safer, more streamlined and more comfortable office experience going forward?
Ventilation is key. Additionally, open workplace plans will probably not be as attractive to employees as they were before (although it's debatable whether they ever were attractive to employees.) I also think having workspace that can easily be partitioned in the event there is another pandemic would be useful.
Q. What are you expecting to see in 2023 in terms of market trends?
Uncertainty. It seems like the Federal Reserve will probably ease up on raising interest rates, but I don't see interest rates going down. Like the residential market, I expect the commercial market to cool off.
Q. Are there any other insights that you would like to add?
I don't think commercial real estate has ever faced such an uncertain future. It will be interesting — and perhaps painful — to see how many downtown cores are hollowed out by the trend toward remote work. Cities will need to be flexible [in] how they use their downtowns.
Interested in being interviewed for our Expert Insights series? Feel free to reach out to us at [email protected]