Chicago's "Big Red" Sells for $376M
Real estate investment firms Deutsche Finance and SHVO have finalized the joint venture purchase of 333 S. Wabash Ave. in Chicago's East Loop business district. The partnership entered an agreement of sale for $370 million back in January and recently completed the acquisition for $376 million, despite general concerns regarding the office market due to the novel coronavirus pandemic.
Formerly known as the headquarters of CNA Financial Corporation, the tower rises 45 floors and incorporates nearly 1.2 million square feet of Chicago office space. Designed by Graham, Anderson, Probst and White, and completed in the early 1970s, the office tower recently underwent a major redevelopment that included a revamped lobby, auditorium and conference center, as well as a new food hall, a world-class fitness center, childcare facilities and tenant gathering spaces.
CNA vacated most of its 750,000 square feet of space as part of the relocation of its headquarters to 151 N. Franklin St. Then, the former owner of the distinctive red tower — John Buck and Morgan Stanley — backfilled the refurbished space with high-quality tenants, such as the Chicago Housing Authority and Northern Trust.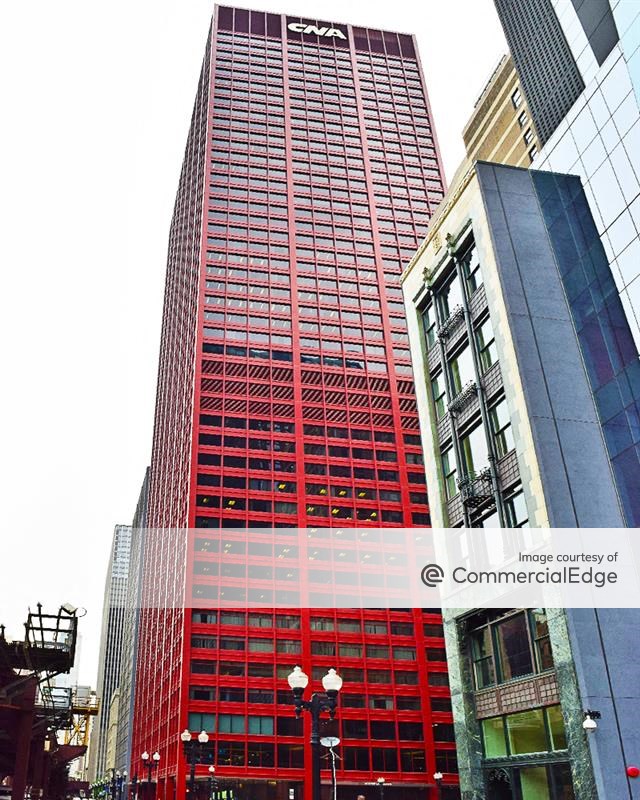 Jason Lucas, managing partner of Deutsche Finance America, said in a statement, "333 South Wabash is a landmark building of unmatched quality and offers our investors the security of long-term, in-place cash flow from investment-grade tenants."
This joint venture acquisition marked SHVO's first foray into the Chicago office market. The firm's CEO, Michael Shvo, said of the deal, "Big Red is among the most recognizable towers in the Windy City's skyline — the birthplace of the skyscraper and home to so much rich architectural history. We're proud to now be a part of that Chicago tradition with this addition to our national portfolio of super-prime core properties. We look forward to not just maintaining 'Big Red's' stature, but [also] elevating it in the years to come."