One thing we can all agree on is that spending time outdoors is an amazing way to unwind from the day-to-day grind. However, a weekend-long hike or a long trip to a national park is often challenging in our busy lives.
With that in mind, we looked at the best places for those looking to enjoy the great outdoors — without having to travel too far out. Specifically, we ranked the best U.S. cities for outdoor lovers based on their park area, sports courts, number of clear days per year, air quality and more. We then split the list by population at the 500,000-resident mark in order to include nature lovers and trekkers from bustling metropolises and smaller cities alike.
The 10 Best Large U.S. Cities for Outdoor Enthusiasts
Living in one of the largest cities in the U.S. doesn't mean you have to kiss outdoor activities goodbye. In fact, modern cities expertly blend the towering high-rises and busy shopping centers that define high-density urban clusters with sports fields, green spaces and trails that offer relief from all of the urban bustle — without having to go outside city limits.
While air quality and walkability are among the most common challenges for those looking for outdoor enthusiasts in large cities, the following locations counteract those issues with ample green spaces, inner-city nature trails and sports amenities.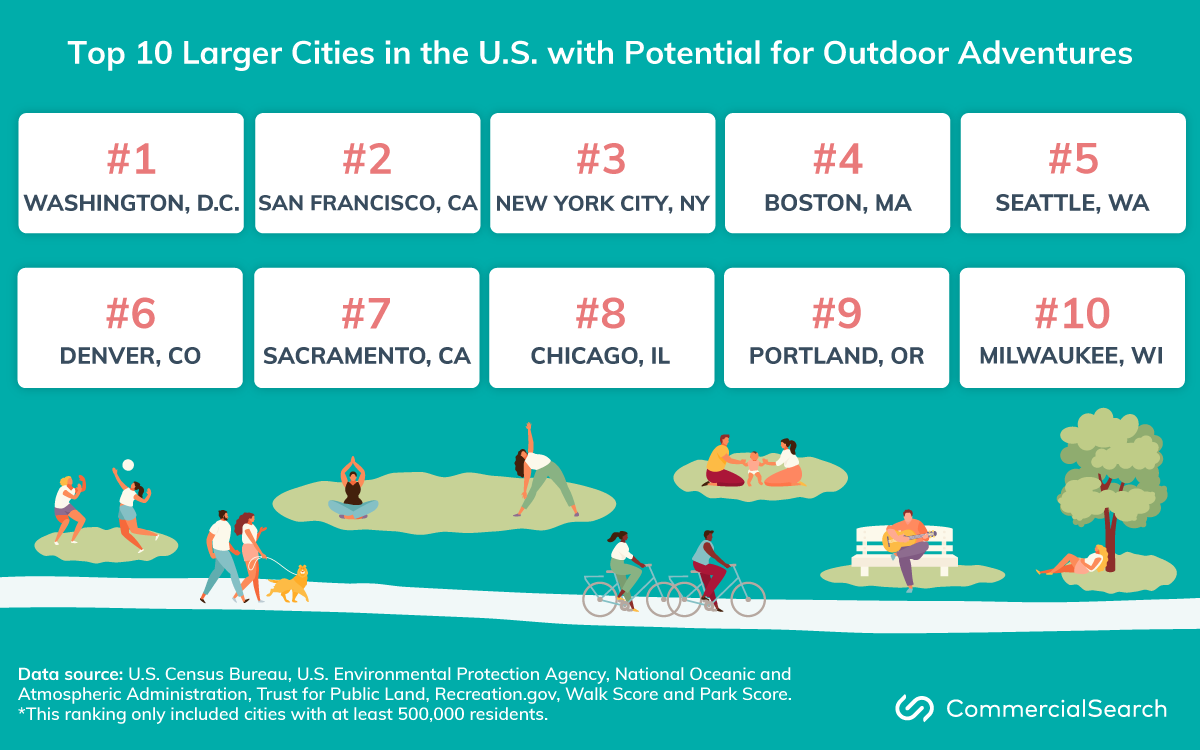 Washington, D.C.: Best Big City for Urban Outdoor Enthusiasts
If you love the outdoors, but still want to enjoy all of the perks of big-city living, Washington, D.C. should be high on your list of places to live. The city offers no shortage of fresh air entertainment options. Notably, the nation's capital was the highest-scoring city in the Trust for Public Land's ParkScore index, with 98% of its residents living within reach of a park and as much as 24% of the city's surface being green spaces.
In addition to great walkability and comparatively good urban air quality, Washington, D.C. also incorporates more than 100 trails within its urban park system. That amounts to about 25 miles of trails for every 10,000 residents — the highest share on the list — on top of great air quality and walkability.
San Francisco Boasts Extensive Green Spaces & Some of the Best Air Quality Among the Top Large U.S. Cities for Outdoor Activities
There's more to San Francisco than just coding and water cooler chatter. From the Golden Gate Park with its botanical gardens all the way to San Bruno and Lake Merced, the northern California powerhouse has plenty going for it in terms of outdoor relaxation.
In particular, San Francisco is famous as a highly walkable city (with Walkscore.com ranking it as the most walkable in the U.S.), especially in neighborhoods such as Chinatown and downtown-Union Square. The City by the Bay also boasted the second-best air quality out of all of the large cities on our list, as well as the second-highest number of clear days per year (160).
America's Biggest City is 3rd-Best Large City for Outdoor Activities
With almost 8.5 million residents — by far the most in the nation — New York City was the third-best city for outdoor enthusiasts. This should come as no surprise, with so many things to see and do in the city that never sleeps.
From walking tours to park picnics and even kayaking, there's something here to suit everyone. Moreover, all of this comes with the added benefit of NYC's walkability: It was the second-most walkable large city in our comparison. Here, all you have to do is put on your comfiest shoes, pick the right park or neighborhood, and take in the sights and sounds.
Aside from New York City at #3 and Chicago at #8, the remaining best cities for outdoor recreation were all mid-sized with 500,000 to 1 million residents. These cities offered a wide range of possibilities for different tastes in terms of things to do outside depending on your tastes.
For example, Boston at #4, Portland at #9 and Milwaukee at #10 are more temperate options that offer more green spaces and better air quality (with Portland having the best on the list), in exchange for fewer sunny days per year. Conversely, Denver (#6) and Sacramento (#7) come with plentiful days of sunshine — as many as 188 per year in Sacramento's case.
The 10 Best Smaller U.S. Cities for Outdoor Enthusiasts
If it's small-town peace and quiet you're after, smaller cities in the U.S. naturally offer an abundance of outdoor activities. Depending on the region and climate, you could be looking at great air quality; extensive green areas and trails; or a majority of clear days in a year. Below, we ranked the cities with fewer than 500,000 residents by their potential for fun in the sun.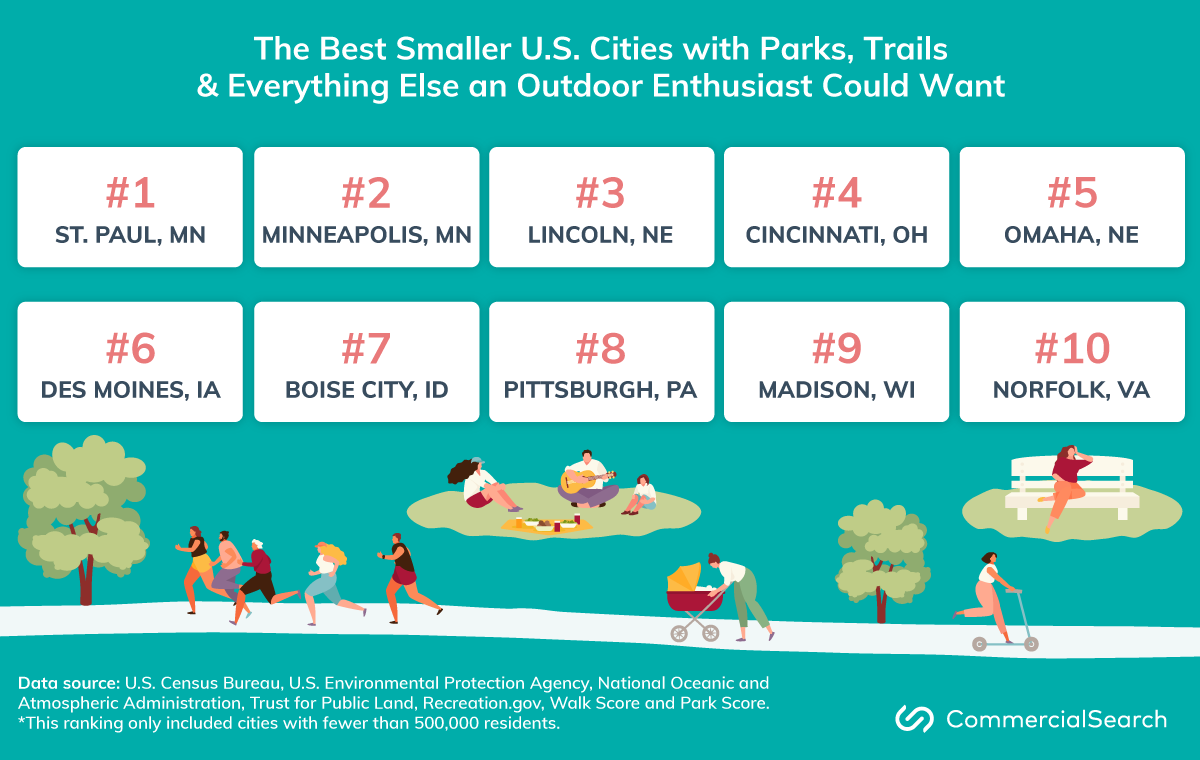 Twin Cities Claim Top Spots as Best Small Cities for Outdoor Enthusiasts
With a total of 227 parks, 100 basketball hoops, 66 playgrounds, 47 dog parks and a population of just more than 300,000, St. Paul, Minn., is a great option for those looking for a smaller city with plenty of things to do out in nature. The city's overall park score — an indicator that considers the total park area, ease of access, investment and amenities — was second only to Washington, D.C.
Additionally, data provided by the Trust for Public Land estimated that 99% of St. Paul residents lived within a 10-minute walk of a park. St. Paul also fared well in terms of outdoor amenities: It was especially notable for its high ratios of courts and athletic fields per capita.
Not to be outdone, Minneapolis claimed the second-best position on the list. It scored better than its twin city in walkability and miles of nature trails per capita.
Midwest Dominates List of Outdoorsy Small Cities in the U.S.
The Midwest is home to a plethora of smaller cities with great potential in terms of rest and recreation.
At #4, Cincinnati is all about outdoor amenities and things to do. Here, the city's recent revitalization efforts are paying off, as residents get to enjoy the great outdoors in a variety of ways. For instance, Cincinnati scored well for its high ratio of sports courts per capita; number of trails; and park score, which was second only to St. Paul among the cities we compared in this population bracket.
Similarly, urban renewal efforts placed two prominent Nebraska cities among the top options for outdoor enthusiasts, as well: Lincoln (#3) scored well for good air quality and the 117 sunny days it sees per year, on average. Omaha (#5) also made the list with the highest ratio of miles of trails per capita.
Three other entries in the top 10 also hailed from the Midwest: Des Moines, Iowa (#6); Boise, Idaho (#7); and Madison, Wis. (#9).
Methodology
We ranked the best U.S. cities for outdoor enthusiasts based on several indicators pertaining to outdoor activities. We also split the ranking into two separate lists, one containing cities with more than 500,000 residents, and a second list containing cities with fewer than 500,000 residents. Points were awarded as follows:
Up to 30 points for a city's ParkScore index, as provided by the Trust for Public Land. The index ranks the parks of the 100 most populous U.S. cities based on 14 measures across five categories: acreage, investment, amenities, access, and equity.
Up to 20 points for a city's outdoor amenities, which included walking loops, sports courts, and fitness zones. Data provided by the Trust for Public Land.
Up to 15 points for a city's miles of trails per resident, as provided by the Trust for Public Land.
Up to 15 points for a city's air quality, based on data provided by the U.S. Environmental Protection Agency. Air quality data is provided at the county level.
Up to 10 points for a city's number of clear days per year, based on data provided by the National Oceanic and Atmospheric Administration.
Up to 5 points for a city's walkability, based on data provided by WalkScore.com.
Up to 5 points for a city's recreation places within city limits, which include campsites, fishing grounds, horseback riding tours, wildlife viewing, boating and similar activities, based on data and mapping conducted by Recreation.gov.