The central part of the digital nomad lifestyle is working while on the move, whether that means going on occasional retreats without taking days off or logging onto work from a different country every month. Of course, before 2020, the digital nomad population mostly encompassed freelancers. However, in recent years, swathes of full-time remote workers have joined their ranks as they realized that their homes were not the only places with a desk and a stable internet connection.
So, if you're eager to start experiencing the wide world even on workdays, we compiled a list of some of the best cities for digital nomads around the world. Our starting list included all cities around the world with populations of more than 400,000 residents with complete data in all of our metrics. This list was then further narrowed to 57 by selecting only the best-scoring city from each country to ensure a diverse set of large, well-connected cities that were all-round great choices for digital nomads just joining the lifestyle. Notably, we based our ranking on the cities' affordability, internet speed, coworking costs, fun factor and safety (read the methodology section at the end for more).
If you're looking for something in particular, check out our individual lists of the locations that fared the best in the following individual categories:
Or, if you're only interested in digital nomad destinations on a certain continent or area, use the links below to navigate to that respective location:
Bangkok, Shanghai & Bucharest Show Most Promise as Global Digital Nomad Hubs
Boasting all-round great affordability — as well as great showings in the rest of our indicators — Bangkok, Thailand, claimed the #1 spot in our ranking, far ahead of any competition. Of course, Krung Thep (or "city of angels," as it's known locally) has been attracting crowds of traveling digital workers even before the adoption of remote work. That's because a low-season hotel room in Bangkok costs $51, on average — the fifth-lowest cost out of all of the cities on the list — while Bangkok's meal cost and coworking membership cost were the fourth- and sixth-lowest, respectively. The city also had the fifth-fastest internet out of all of the cities in our study at 225 MB/s.
Bangkok offers a perfect combination of affordability, fun and low barriers to entry. For example, you can be a digital nomad here using only a travel visa that's renewable every three months. Plus, areas like Salom and downtown Bangkok are rife with both businessmen to network with, as well as trendy coworking offices if you're looking for a change of space. Additionally, you'll find great nightlife; cheap and delicious food; and cool cafes in neighborhoods like Thonglor. And, with the rest of Southeast Asia within reach, you can find plenty of opportunities for quiet escapes from this charmingly hectic, 9-million-resident city.
The runner-up spot was taken by Shanghai. Despite being less affordable than Bangkok, Shanghai offered faster broadband internet, with the mention that the Great Firewall may limit digital nomads from using the tools they're used to. Being one of China's largest hubs for business, finance and research, digital nomads settling here join a competitive environment that's primed with potential networks, as long as internet restrictions don't hinder your day-to-day work.
With all of these benefits — as well as a vibrant local culture and cuisine — Shanghai is certainly a strong option. That said, it should be noted that foreign travelers don't have access to a dedicated digital nomad visa in China as they do in other entries on our list. Even so, you can still apply for a tourist visa if you provide proof of flight tickets and accommodation.
The third entry on our list took us across the world to Bucharest, Romania. Bucharest was similar to Bangkok when it came to its best-scoring metrics. More precisely, it landed between Bangkok and Shanghai in terms of hotel and coworking costs. Moreover, the Eastern European entry was also safer than the previous entries. Romania also boasts some of the fastest internet speeds worldwide (especially in the case of broadband internet) paired with remarkably cheap subscription costs. All this is further supplemented by the fact that residents of many countries can live and work in Romania visa-free for up to 90 days, and the country also recently implemented a dedicated digital nomad visa for up to a year.
Check out the table below to see the remaining best cities to stop by as a digital nomad:
Best Cities for Digital Nomads Seeking Affordability
Traveling can be expensive. At the same time, choosing the right destination as a digital nomad can have you saving money even while traveling the world. Here are the top 10 cities ranked by the affordability of a one-month stay: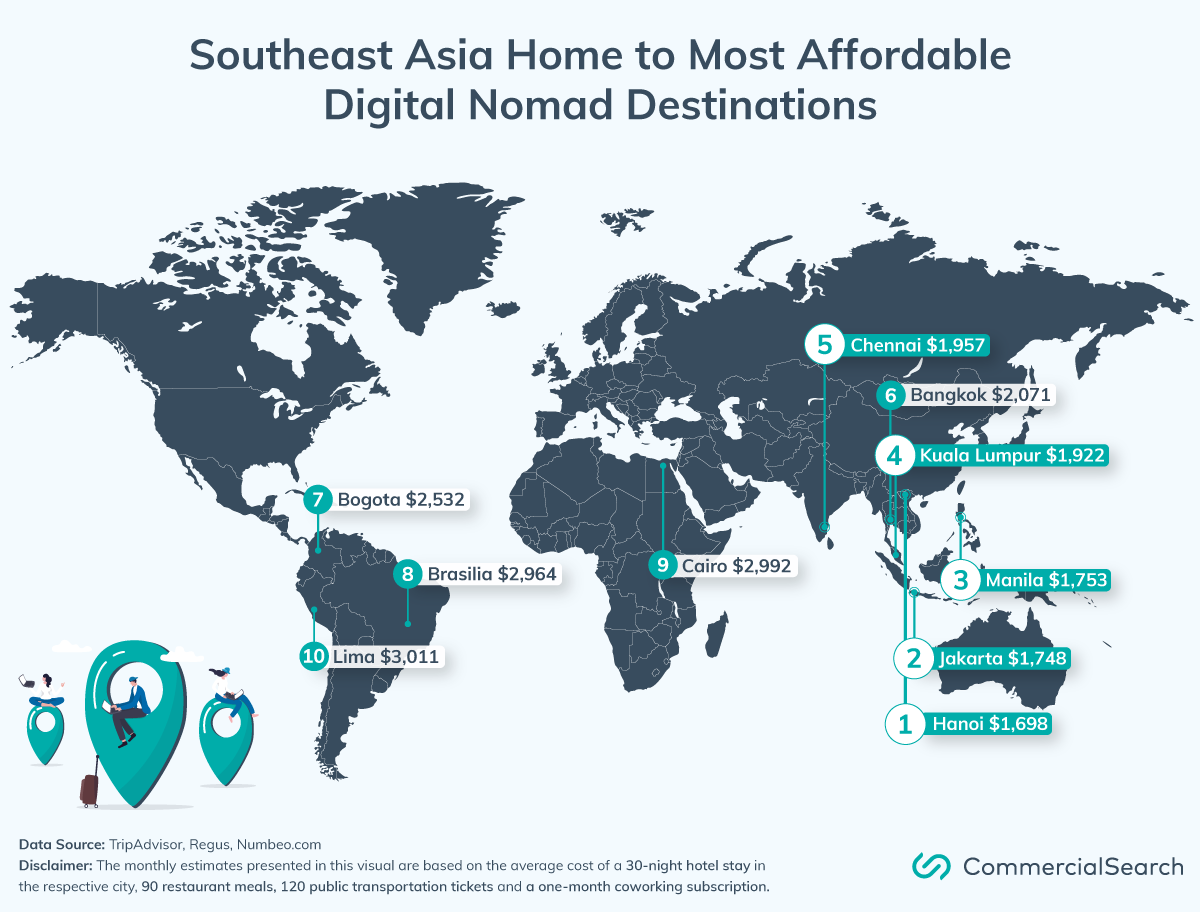 #1 Hanoi, Vietnam
The most affordable city on our list is Hanoi, Vietnam, with an estimated cost per month of just less than $1,700. More precisely, that price includes the cost of 30 nights in a hotel at $41 each; an average per-meal cost of $2.20; a public transportation ticket of just $0.30; and a middling monthly coworking cost of $224 for when you need fast internet, conference rooms or other amenities. It's worth noting here that, in recent years, Hanoi has started to compete with other tech and finance hubs in Southeast Asia, such as Singapore and Bangkok.
#2 Jakarta, Indonesia
Jakarta is the second-most affordable option on our list when estimating monthly costs: The city claims an average low-season hotel room cost of $44 per night, as well as a meal cost of $2.70 — just slightly above those in Hanoi. Plus, a Regus coworking subscription in Jakarta will only cost you around $135, potentially offering digital nomads who need access to on-demand office amenities the opportunity to save money.
#3 Manila, Philippines
Estimated monthly living expenses in Manila came in at just more than $1,750, making it the third-most affordable city in our study. Notably, hotels in Manila are, on average, the cheapest out of all of the cities in our ranking at just $37 per night. But, the Philippines' capital's affordability was kicked down a peg by its higher cost per meal compared to the previous two entries.
#4 Kuala Lumpur, Malaysia
Another established hub in the Southeast Asian business world and beyond, Kuala Lumpur is slightly less affordable than the previous three representatives from the region, coming in at an estimated $1,922 per month. Still, given its low coworking costs and good showings in other indicators, this is another entry you should consider if you're an economically minded digital nomad.
#5 Chennai, India
Transitioning to South Asia, Chennai, India, made the list as the fifth-most affordable city for digital nomads, thanks to a combination of the cheapest restaurant meals out of all 57 cities, as well as relatively inexpensive hotels and public transit. So, if you want to work from Chennai while experiencing the city's unique Tamil culture, you can be sure that it won't cost you an arm and a leg.
Digital Nomad Cities with the Best Internet
Many remote jobs require you to have a stable and fast internet connection for regular conferences or sales calls; to be in touch with a team that depends on your work; or to access online tools. However, when you're traveling the world, fast internet is rarely a certainty. So, to help workers on the go who need to download that shared file now, rather than later, here are the top 10 destinations with the fastest average broadband internet speed for digital nomads: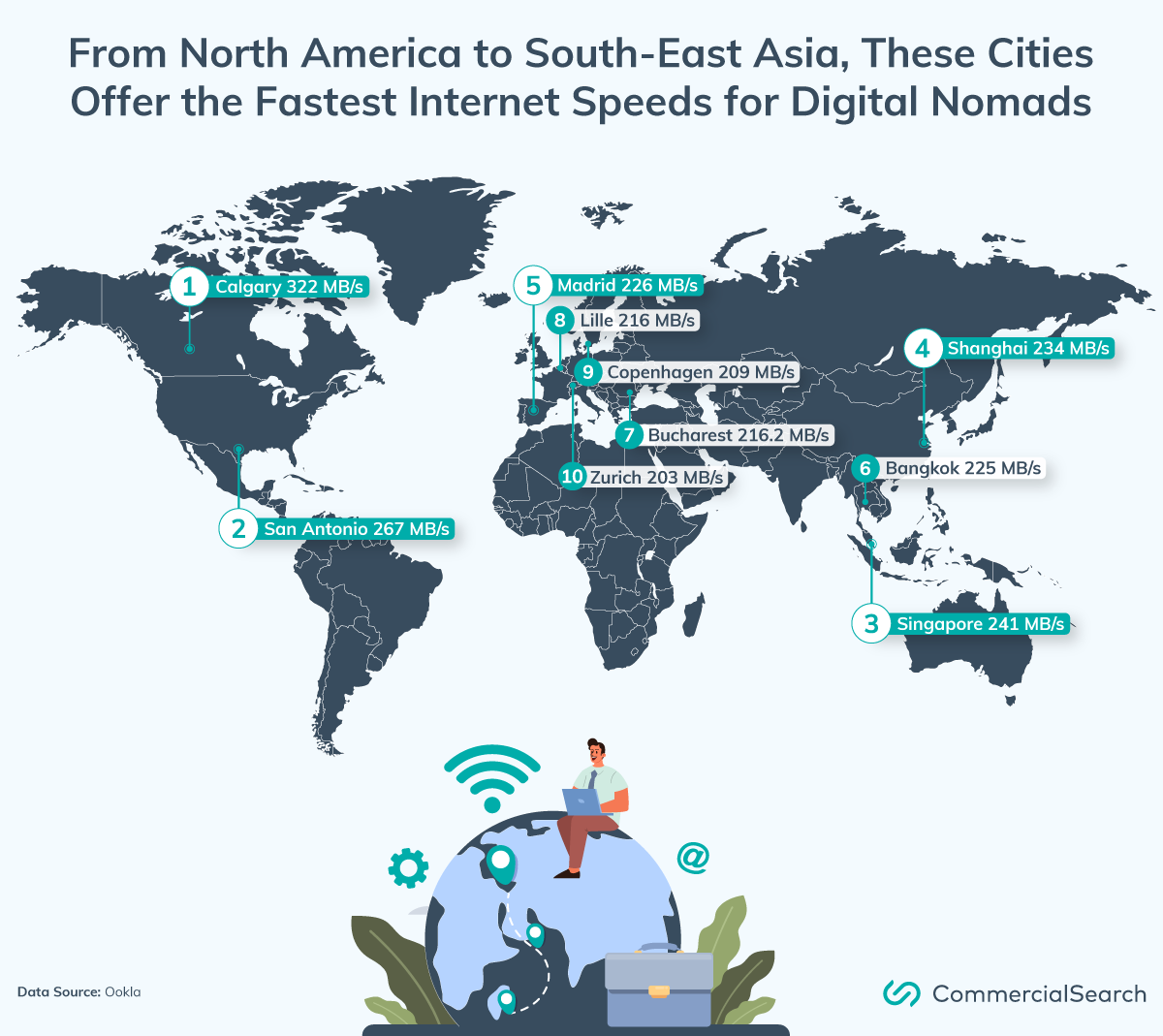 #1 Calgary, Alberta, Canada
The third-largest city in Canada is a place for digital nomads to consider due to one particular highlight: The city boasts the fastest average internet speed on our list at 322 MB/s — significantly faster than the following entries, thanks to several ISPs that offer download speeds above 1 GB/s. With a thriving business environment, Calgary is also commonly ranked as one of the most livable cities in the world. The city also fared well in terms of safety, although it did receive lower scores for affordability.
#2 San Antonio, Texas, U.S.A.
One of the largest economic and cultural hubs in Texas can also pride itself with having some of the fastest broadband internet speeds among all of the cities on our list. With average speeds of approximately 267 MB/s, digital nomads who want to experience the unique atmosphere of this 1.4-million-resident city don't have to worry about dropped calls or slow uploads.
#3 Singapore
The city-state of Singapore has the third-fastest internet on our list with average speeds around 241 MB/s, thereby ensuring fast transfer of data for digital nomads for whom teamwork is essential. In addition to this advantage — and the fact that it's a global business hub — Singapore is also among the safer cities on the list. And, you'll never be short on fun, either, with more than 3,300 attractions and things to do here.
#4 Shanghai, China
With an increasingly digitalized economy, China is boasting faster internet speed year by year — and that's especially true in Shanghai. However, if you're an international digital nomad, you might find it more difficult to receive a Chinese visa compared to other entries on the list. Also keep in mind that, due to strict internet regulations, you may not have access to all of the sites and tools you're used to without a VPN. However, if you manage to cross these hurdles, Shanghai may be a strong contender for digital nomads who need fast networks. The city's affordability in terms of hotels, transportation and food is nothing to scoff at, either.
#5 Madrid, Spain
If you want to log onto work from one of Europe's history-rich capitals, Madrid is also enticing from the point of view of internet speed. Averaging 226 MB/s, Madrid's internet speed is the fifth-best on our list and the best in Europe, ahead of cities such as Lille, France, as well as Copenhagen, Denmark. Still, it should be noted that, of the five cities with the best internet worldwide, Madrid is the most expensive to live in when it came to hotels and transportation. Conversely, coworking is more affordable here than in Calgary, Singapore and Shanghai.
Digital Nomad Cities with the Most Things to Do
Being a full-time remote worker allows you to travel as you work and turn the entire year into a vacation. However, those precious weekends and after-work hours are wasted if your destination doesn't have that many things to do. So, for thrill-seekers and memory-collectors, these are the global cities on our list with the most things to do and see: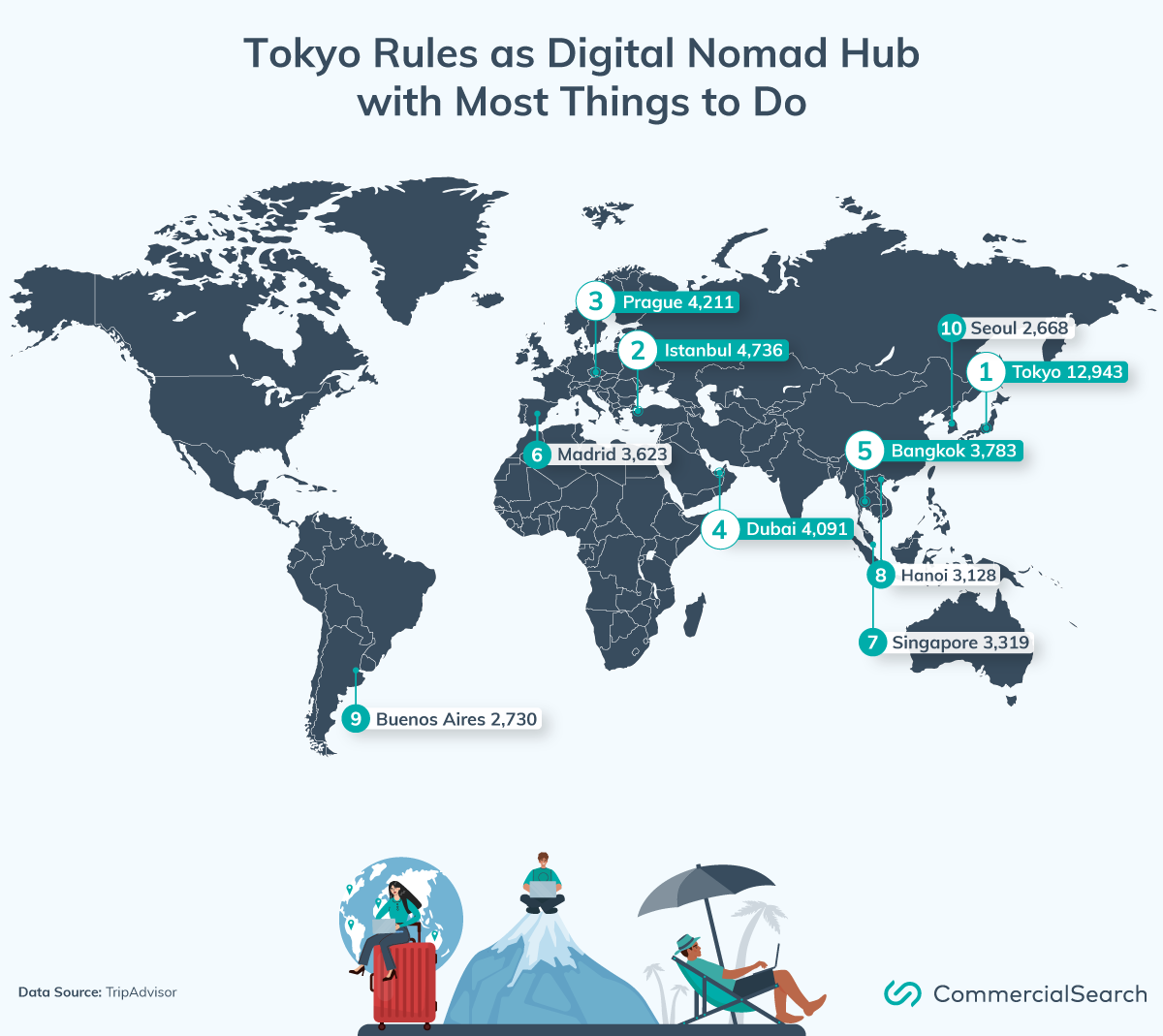 #1 Tokyo, Japan
Tokyo is home to more than 12,600 attractions and activities, meaning there's never a shortage of things to do here. From the world-renowned shopping and clubbing scene of the Shibuya District to the tech and anime heart of the world in Akihabara and everything in between, there's always something to experience for workers on the move. In particular, the club and bar scene is incomparable; festivals and other cultural celebrations abound; and there are testaments to Japan's rich history everywhere. So, if your ideal place to be after work hours is in one of the most bustling and energetic world cities (and you're ready to afford the premium), then Tokyo can be your new temporary home — especially as the Japanese government is considering implementing a dedicated digital nomad visa.
#2 Istanbul, Turkiye
Also known as the City on the Seven Hills, Istanbul is one of Europe's most bustling and vivid cities with everything from delicious street food to a rich history and plenty of recreational activities. But, with so much to do and explore here, it's almost a waste to rush through all of the sights and attractions in a week-long holiday. Furthermore, if you're looking to spend weeks or months in the city while working remotely, know that, in addition to more than 4,700 things to do and see in the city (as listed by TripAdvisor), you'll also enjoy good affordability compared to other European destinations.
#3 Prague, Czechia
To the northwest, Prague is famous for its historic center, which is registered as a UNESCO Heritage Site, as well as being home to countless trendy cafes and bars. Plus, if you want to enjoy the sights of several eclectic architectural styles during a longer stay as a digital nomad, you'll have access to more than 4,200 attractions and activities in the Czech capital.
#4 Dubai, United Arab Emirates
Another famous tourism hotspot, Dubai is home to numerous instantly recognizable landmarks. Foremost of these is the Burj Khalifa — the tallest building in the world at 2,716 feet (828 meters) and the uniquely shaped museum-monument dubbed the Dubai Frame. However, these are just two of Dubai's 4,000+ tourist attractions and fun activities.
#5 Bangkok, Thailand
Thailand's capital and cultural heart made the top spot on our list thanks to its remarkable affordability and strong score across the board, which included a #5 finish when it came to the number of fun activities and tourist attractions. From the numerous Buddhist temples and palaces to the impressive cultural manifestations and even modern architectural marvels, Bangkok is one of Southeast Asia's gems for a long-term stay.
Best Cities for Digital Nomads in Different Parts of the World
Given the freedom and opportunity of experiencing the world (while still keeping a steady income), becoming a digital nomad can be a highly attractive proposition. As a result, the worldwide number of digital nomads is rapidly growing.
However, joining the movement isn't as easy as applying for a visa and packing your bags. Beyond ensuring that your income is suitable for the destinations of your choice, keep in mind that the world is a vast and diverse place and make sure that the local culture suits you. This is especially important for nomads who are planning to stay for longer periods at a time. So, whether a certain part of the world seems to resonate with you; you want to start your global exploration closer to home; or you just want to enjoy shorter flights between your temporary residences as a remote worker on the move, we ranked the best cities for digital nomads on different continents.
The visual below features all of the cities included in the study. To select cities from a single continent or region, click on its corresponding name above the city cards. Use the scroll bar at the bottom to navigate between entries.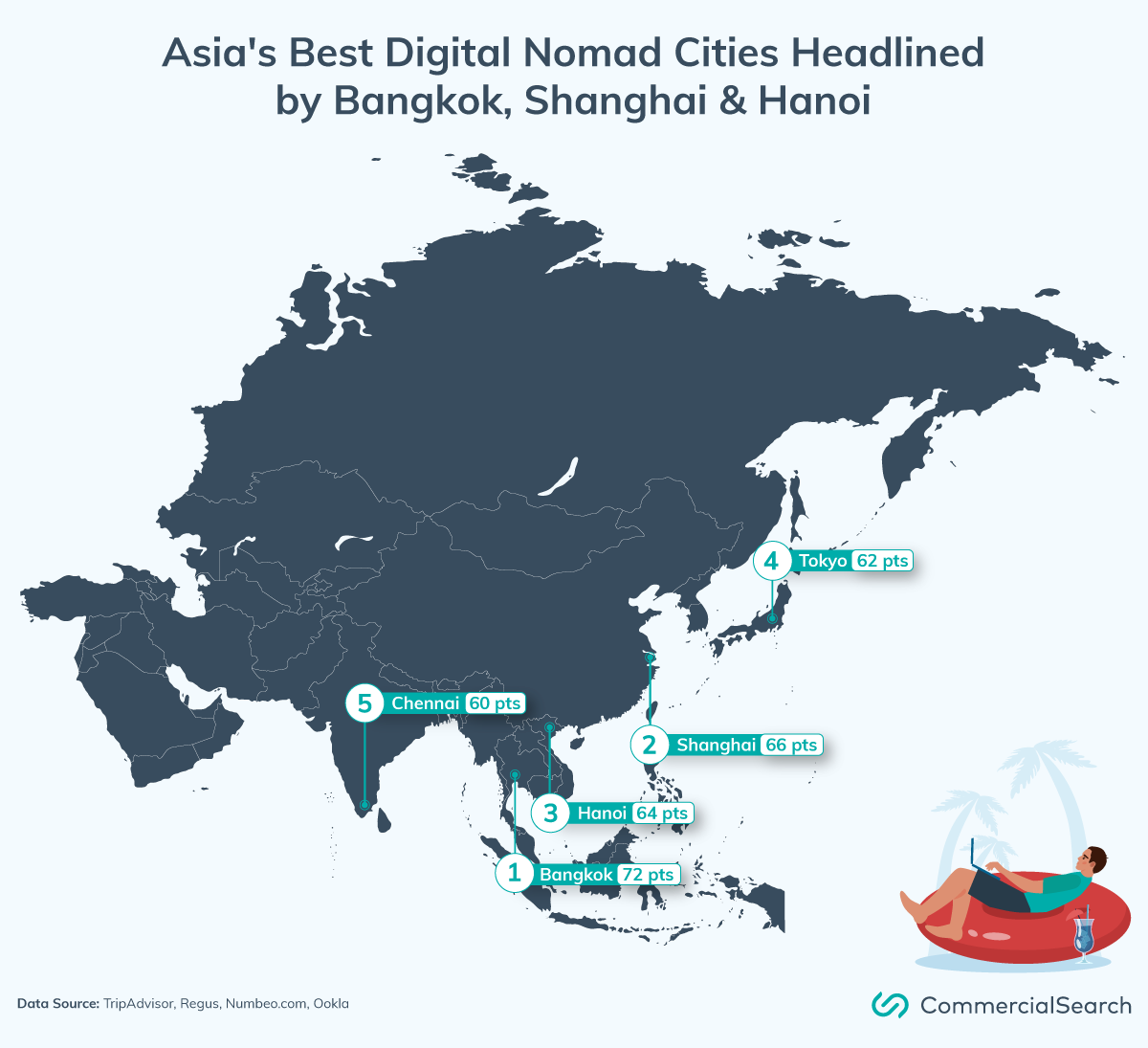 #1 Bangkok, Thailand
As the #1 city for digital nomads overall, Bangkok also naturally tops the list for Asia as well. Specifically, affordability; a unique and vibrant culture; and great internet are all benefits that nomads settling here can enjoy, thereby making it the most promising destination for any digital nomads with their targets set on Asia.
#2 Shanghai, China
Shanghai is the next-highest-rated city on the continent, with its strongest suit being its high-speed internet (again, if its restrictions don't pose an issue for your work operations). For just a slightly higher living cost than the #1 entry in Asia, Shanghai is still a promising destination for digital nomads with the right priorities and needs.
#3 Hanoi, Vietnam
At the opposite end of the spectrum in terms of benefits, affordability is Hanoi's strongest suit, rather than internet speed. Therefore, if you want to save money while still experiencing one of the region's most vibrant cities, Hanoi should definitely have your attention.
#4 Tokyo, Japan
Tokyo is the fourth-best digital nomad city in Asia with a plethora of activities and sights to experience. Granted, Tokyo may be somewhat less affordable than the previous entries from the continent, but with a great safety index and good internet speeds, it's still one of Asia's strongest contenders for digital nomads.
#5 Chennai, India
The beating heart of India's Coromandel Coast ranks as the fifth-best Asian city for digital nomads to settle in. More precisely, Chennai features another mix of affordability paired with a good safety index. Here, the trade-off was the lower number of things to do and lower internet speed.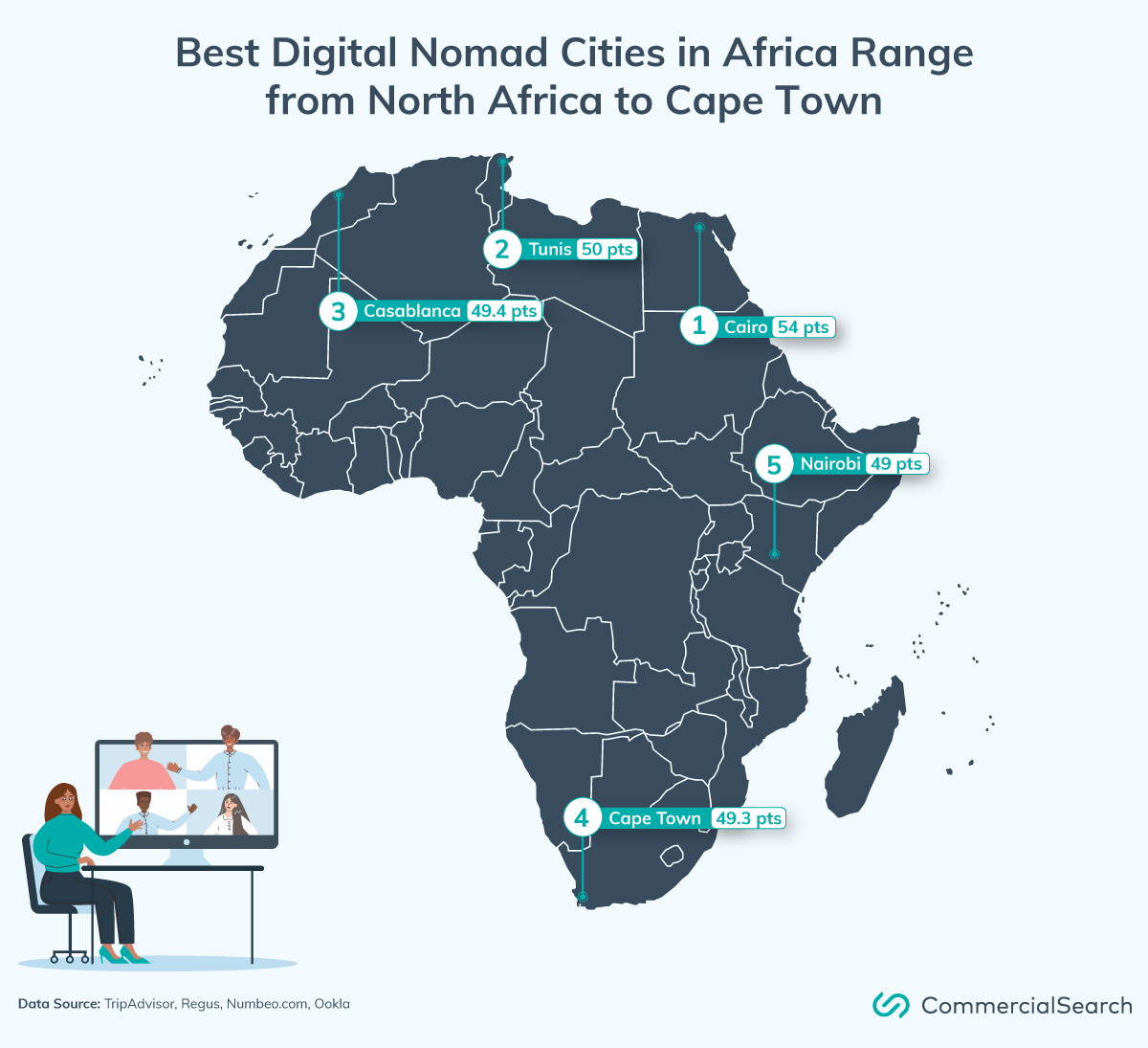 #1 Cairo, Egypt
The largest city in Africa is also the continent's best-ranking city with a total score of 53.5 points, with affordability being its main upside. However, Cairo is much more than that. As the biggest city in Africa and one of the largest in the world in terms of population, this eclectic city is sure to provide digital nomads with a unique experience.
#2 Tunis, Tunisia
Another North African city was the continent's runner-up: Tunis scored close to Cairo in terms of affordability, but earned fewer points for its internet speed and entertainment. Still, if you'd like a Mediterranean destination that's been less transformed by tourism, Tunis is a strong contender.
#3 Casablanca, Morocco
You might know Casablanca as a place of passion and intrigue from the classic 1942 movie starring Ingrid Bergman and Humphrey Bogart. However, the real Moroccan city offers far more than its Hollywood version for any prospective digital nomads. In fact, by combining both traditional architecture with modern office buildings, Casablanca is both a hot tourist destination, as well as a global business hub.
#4 Cape Town, South Africa
Cape Town came in fourth among the best African cities for digital nomads working remotely. This was primarily due to its considerably less-expensive hotels and coworking memberships, as well as its fair number of entertainment venues at the expense of a much lower safety index.
#5 Nairobi, Kenya
The Kenya capital closed out the list of best cities for digital nomads in Africa, contributing a level of affordability similar to that of Cairo and Tunis paired with slower internet and a lower safety index.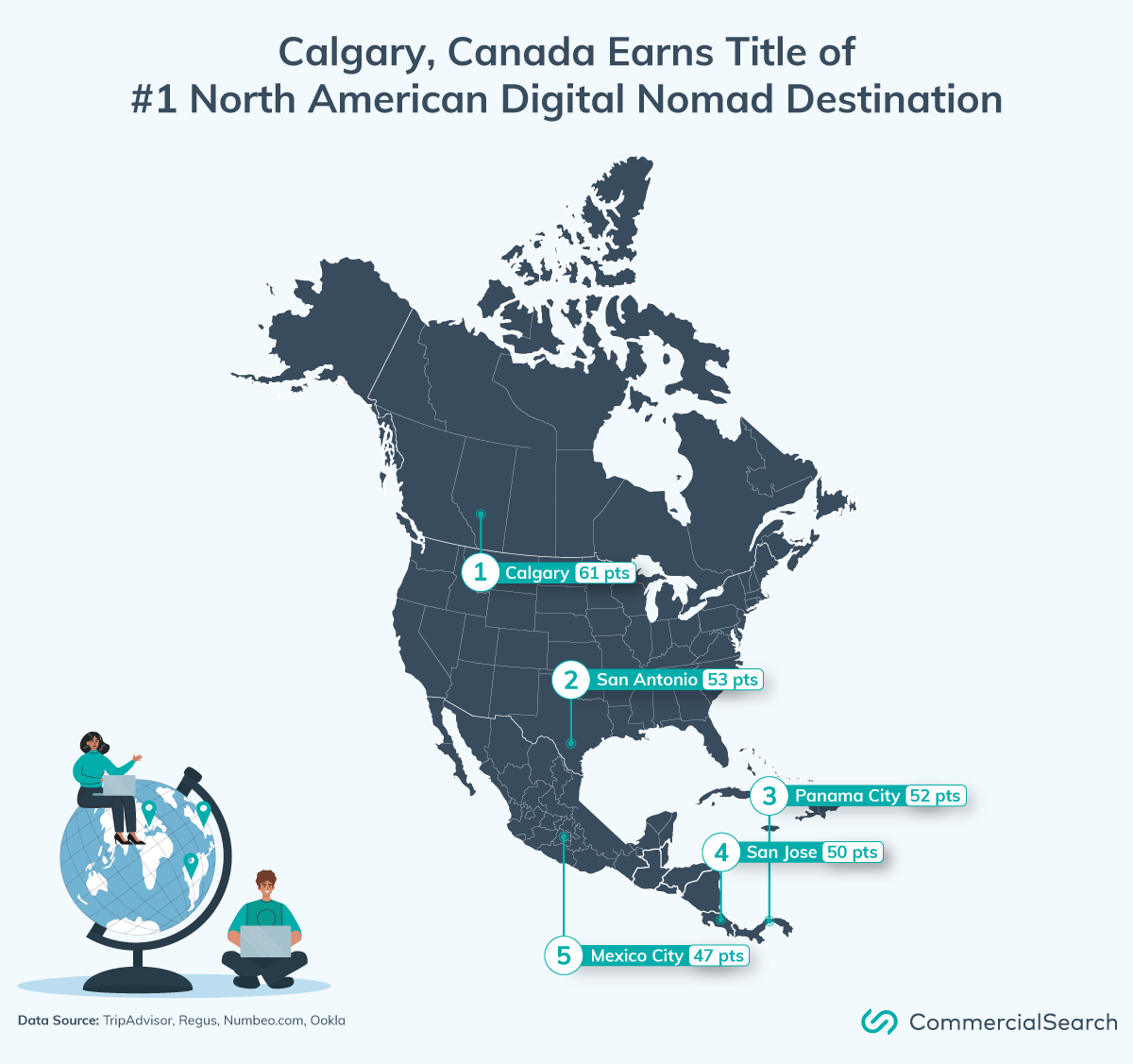 #1 Calgary, Canada
As the city with the fastest internet speed on our list, Calgary's main benefit is evident. However, make no mistake: This city from the Canadian province of Alberta provides a great mix of fun and economic opportunity on top of a fast connection.
#2 San Antonio, Texas, U.S.A.
The U.S. representative on our list is San Antonio, which has become one of the main beneficiaries of the tech surge in Texas. It's also the seventh-largest city in the country by population. Having internet speeds that can compete with those of Calgary, but with slightly higher living costs, San Antonio is nevertheless a great North American digital nomad destination if you're after plenty of business opportunities and fast internet.
#3 Panama City, Panama
The capital of the eponymous country, Panama City has been on the rise both as a tourist destination, as well as for business ventures. As such, digital nomads are sure to enjoy the unique experiences and great weather that come at a comparatively affordable cost.
#4 San Jose, Costa Rica
When you hear San Jose, you might think of the California city that's been defined in recent years by the innovation coming from Silicon Valley. However, we're talking about the Costa Rican capital, which is home to more than 2 million residents and offers digital nomads affordability, as well as fun.
#5 Mexico City, Mexico
The trifecta of American capitals in the top of this list was completed by Mexico City. It ranked as one of the best North American digital nomad hotspots thanks to a familiar blend of affordability, as well as a good number of things to do.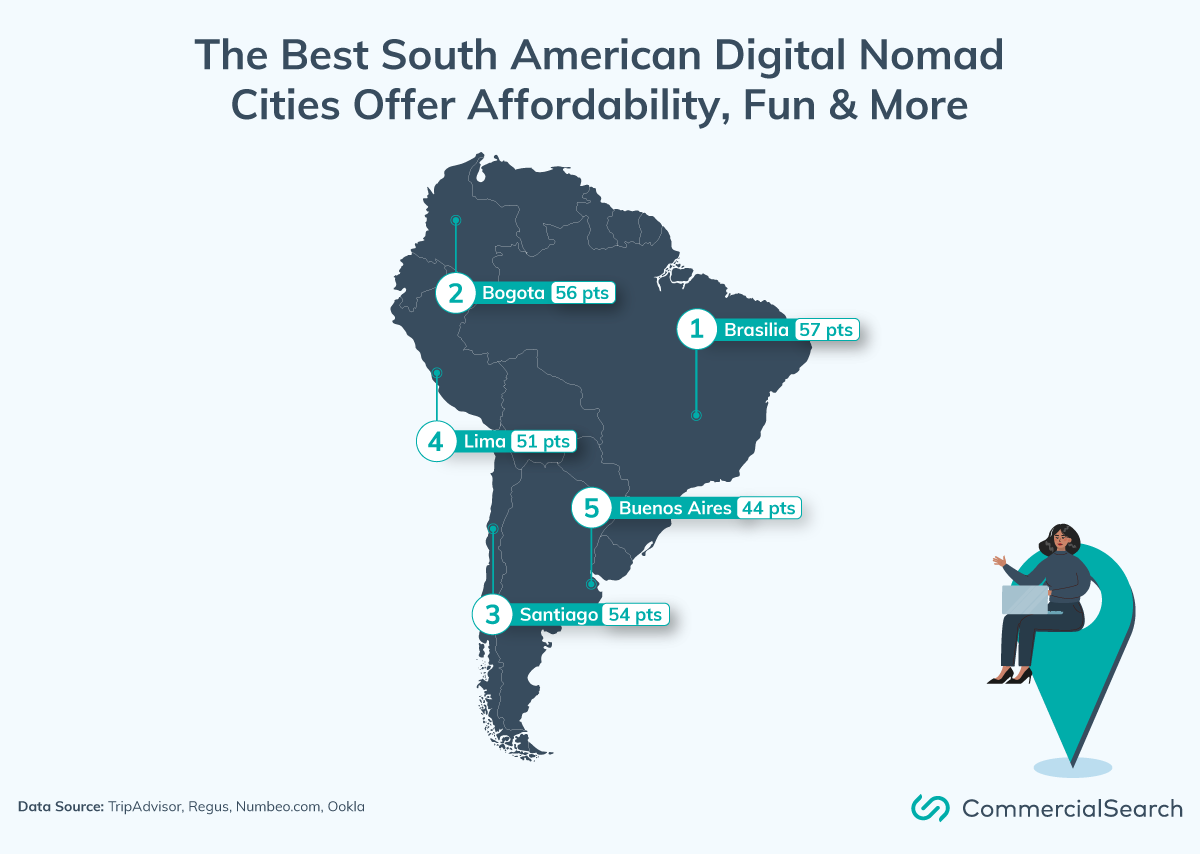 #1 Brasilia, Brazil
Rio de Janeiro isn't the only fun place to be in Brazil: The country's administrative capital, Brasilia, actually received the highest score among all South American cities in our study due to its great internet speed and the best safety index out of all of the locations from this continent.
#2 Bogota, Colombia
The Colombian capital reached #2 in the ranking of the best digital nomad cities in South America. Notably, Bogota was less expensive than Brasilia in terms of hotels, meals and transportation costs, in addition to having more activities and attractions.
#3 Santiago, Chile
The Chilean capital of Santiago closed out the South American podium with comparatively higher living costs than the previous two entries. That said, it also offered faster internet than all other cities hailing from South America.
#4 Lima, Peru
Continuing the streak of South American capitals, Lima's advantages mirrored those of Brasilia and Bogota. Namely, Lima claimed cheap stays, cheap food and cheap transportation, paired with almost 1,500 things to do.
#5 Buenos Aires, Argentina
Buenos Aires is well-positioned to offer digital nomads settling here a ton of fun: TripAdvisor listed more than 2,700 attractions and activities within the city — more than in any other South American location.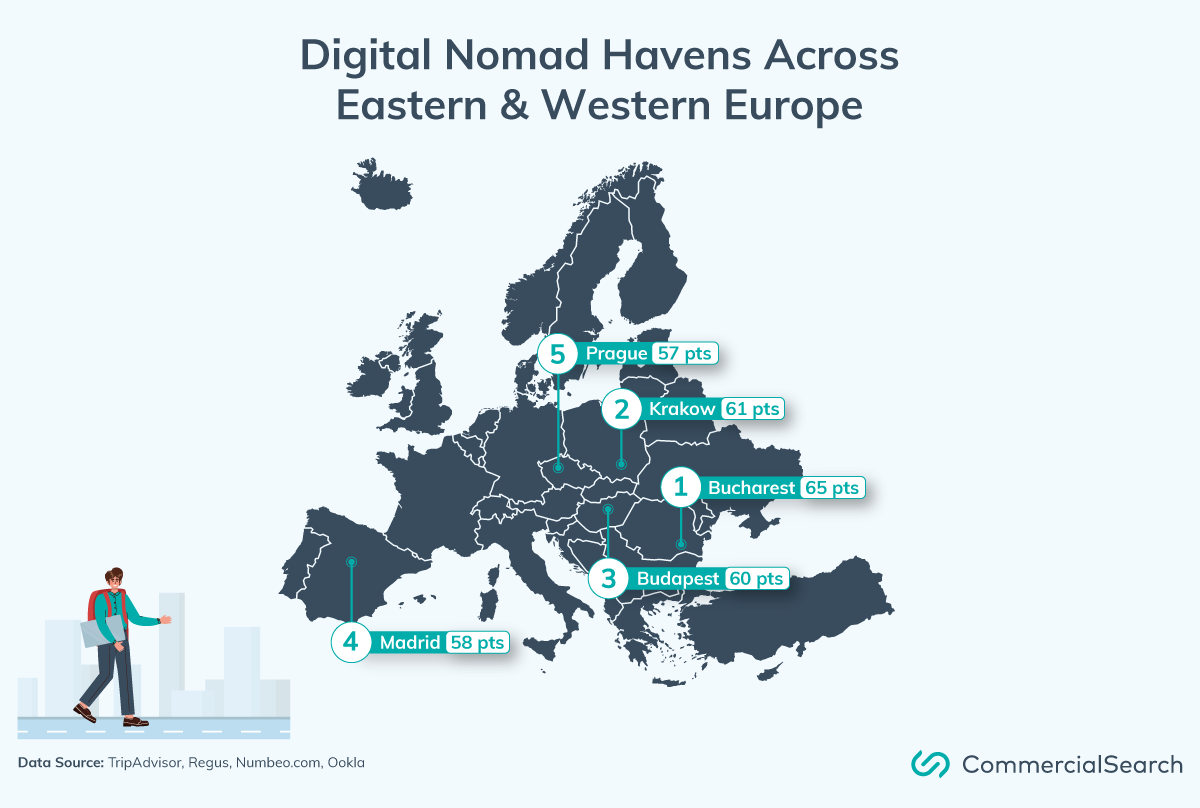 #1 Bucharest, Romania
If you want to explore Europe, then Bucharest is a great place to start as the Romanian capital managed to achieve the best score out of all cities on the continent. Romania's capital is also an affordable cultural hub with great internet and an easy-to-access visa.
#2 Krakow, Poland
Staying in Eastern Europe, the next-best European city for digital nomads was Krakow. Slightly more expensive in terms of hotel costs — but with cheaper meals, on average — Krakow is a history-rich city where some categories of digital nomads are sure to feel at home.
#3 Budapest, Hungary
Completing the Eastern European trifecta was Budapest. "The Pearl of the Danube," as it's come to be known, stood out as another more-affordable and less-congested European tourist destination that can also be a great hub for digital nomads.
#4 Madrid, Spain
Madrid enjoys fair weather and great internet speeds. Notably, it scored relatively lower than the previous European entries only because of its relatively higher cost of living. Even so, the city's many tourist attractions can definitely be worth the extra costs for nomads who can afford them.
#5 Prague, Czechia
Also featuring a plethora of tourist attractions, Prague scored lower than previous cities due to slower average internet speeds and higher costs compared to its fellow Eastern European entries. Still, the city is among Europe's finest for those who prize experiences.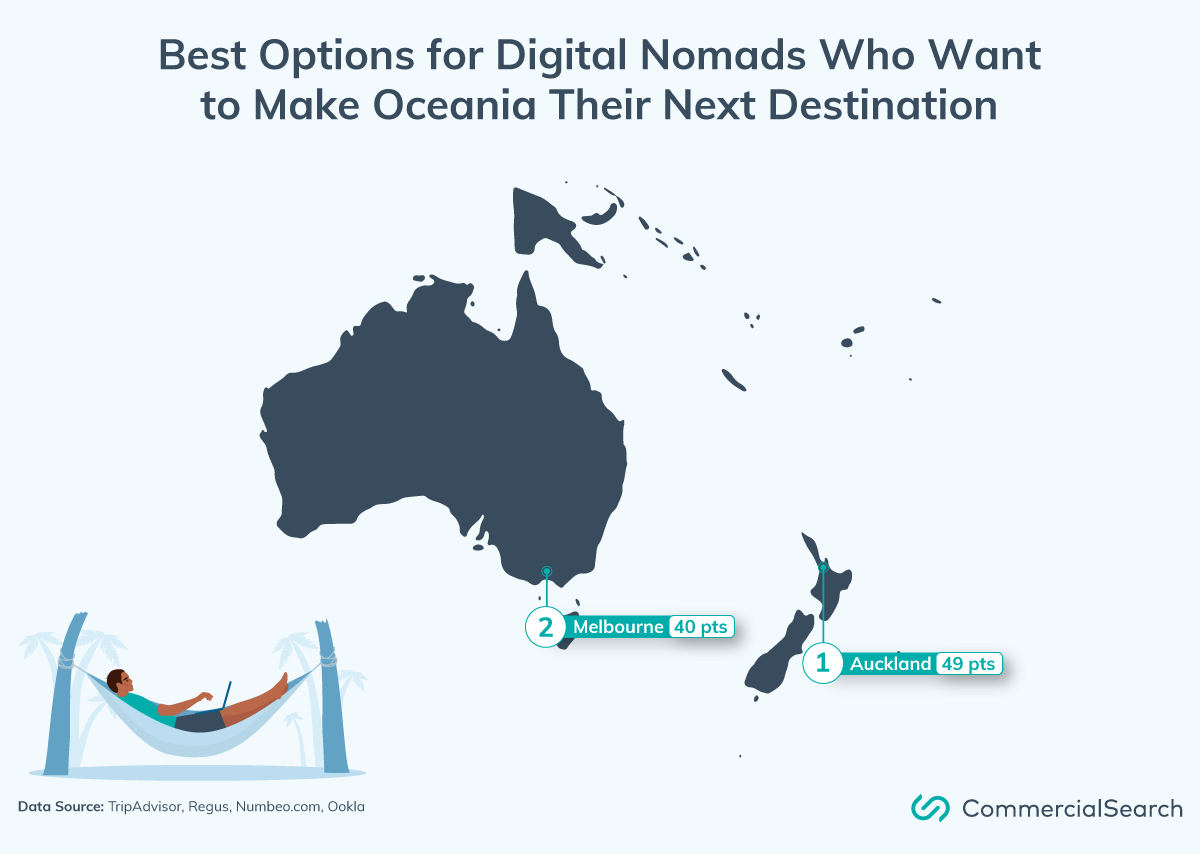 #1 Auckland, New Zealand
Located on New Zealand's North Island, Auckland sometimes feels like a big small city. That's because the community is tightly knit and welcoming to digital nomads; the weather is balmy; and the cost of living is relatively affordable compared to its fellow Oceanic entry. Plus, if you decide to put this on your list of telecommuting destinations, you can enjoy the city's many opportunities for outdoors activities, such as water sports and hiking.
#2 Melbourne, Australia
Melbourne scored well for its low coworking costs with average scores in other categories. Here, the city's bars, restaurants, and surfing scene are well-known attractions for short- and long-term visitors, although slower internet speeds may be something that digital nomads should be mindful of.
Methodology
For this study, we selected all cities worldwide with more than 400,000 residents that had full data available for all of our selected metrics. We then ranked them based on their affordability, internet speed, coworking availability, entertainment and safety. Only the best-scoring city from each country was included in the final list. Points were awarded as follows:
Up to 35 points for affordability:
Up to 20 points inversely proportional for average per-day hotel costs (courtesy of TripAdvisor), representing the low-season cost for a single room as of April 2023.
Up to 10 points inversely proportional for the average cost of a meal in an inexpensive restaurant as calculated by Numbeo.com.
Up to 5 points inversely proportional for the cost of a one-way public transportation ticket for a local trip, courtesy of Numbeo.com (only available at the country level).
Up to 20 points for internet speed based on data provided by SpeedTest by Ookla.
Up to 15 points inversely proportional for the average cost of a one-month coworking membership in Regus locations. Only cities with at least three Regus coworking locations were included. Membership prices in local currency were courtesy of Regus and were converted to U.S. dollars based on exchange rates as of April 26, 2023.
Up to 15 points for the number of attractions and activities (courtesy of TripAdvisor).
Up to 15 points for a city's safety index (courtesy of Numbeo.com).