Austin might be more than 180 years young, but you'd never have guessed it from its youthful demeanor and vibrancy. Home to lush parks, prestigious institutions of higher learning, and a buzzing music and art scene, the city has spent the last decade bolstering its reputation as a startup hub and a darling of the freelancing community.
The influx of new businesses and big names — along with the challenges presented by the COVID-19 pandemic — has demonstrated the need for coworking spaces in Austin that can accommodate growing companies and solopreneurs alike by providing much-needed flexibility and varied membership plans.
Whether you're looking to expand or need a professional setting to meet clients, get a head start by checking out this selection of amazing coworking and shared office spaces put together by CommercialSearch:
Address: 100 Congress Avenue, Austin, TX 78701
Want to set up your business in a landmark skyscraper in downtown Austin? Look no further than Regus' coworking space at 100 Congress Ave., which offers great views of the city from the 20th and 21st floors. Boasting an elegant marble lobby and large windows to allow for plenty of natural light throughout the premises, this location comes equipped with seven coworking desks, four meeting rooms and no fewer than 78 private offices for its members. Plus, in addition to the impressive skyline, 100 Congress Ave. is also just across the river from Butler Metro Park and its selection of arts venues.
Address: 600 Congress Ave , Austin, TX 78701
When people talk about an inspiring work environment that gets those creative juices flowing, it's likely that they envision a place like this WeWork location. Designed with a Wes Anderson theme in mind and furnished with warm woods, turquoise walls, and touches of soft leather, 600 Congress pays homage to Austin's liveliness and love for art and music. Located within walking distance of the Texas State Capitol, this downtown Austin coworking space also offers access to biking and hiking trails around Town Lake, as well as the city's lively, music-rich 6th Street.
Here, you can enjoy a break in a tucked-away lounge on the west side of the building; mingle with colleagues on the terrace; or have a reinvigorating yoga session in a break room. Then, once you feel energized, check out the WeWork Labs incubator on the 14th floor or set up a meeting in one of the dedicated and stylish rooms.
Address: 11801 Domain Blvd 3rd Fl , Austin, TX 78758
For the entrepreneur with an eye for history, this WeWork coworking space in North Burnet is situated in a former IBM campus at 11801 Domain Blvd., just across the street from a Whole Foods and within a brisk walk of the city's burgeoning food, shopping and nightlife scene.
Variety is the spice of life, and The Domain has plenty to offer for everyone. Need to set up a meeting with a client, but want to savor the outdoors? Settle into a comfy spot on the building's terrace that's fitted with lounge furniture and dining tables. Time for a creativity-boosting break? Mash some buttons and get your name on the leaderboard in the video game room. Got used to having your furry friend around throughout your workday? No problem. You'll both fit right in this pet-friendly coworking space. Best of all, you won't have to worry about driving in for work, as The Domain offers easy and stress-free parking reservations.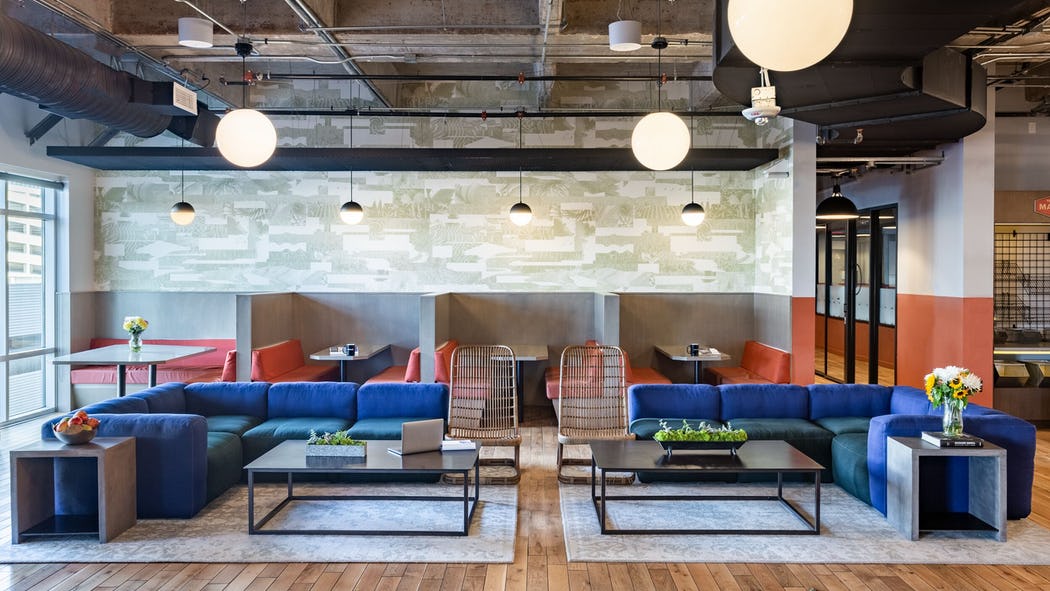 Address: 1700 South Lamar Boulevard Suite 338, Austin, TX 78704
For those who feel that the magic is in the details, this shared office space on Lamar Boulevard, just south of downtown Austin, might be the perfect fit. While you might not think much about the furnishings in your workspace or the equipment you use every day, Fibercove has equipped its property with premium electric standing desks, HD monitors and highly ergonomic Herman Miller chairs. Likewise, meeting rooms and communal spaces are styled in a simple, but effective way, drawing on the readily available natural light. Members also enjoy free parking, as well as access to Fibercove's in-suite studio, ideal for recording audio or video podcasts. Plus, when you feel like grabbing a quick bite, just hop out and take your pick from a wide range of eateries and coffee shops nearby.
Address: 111 Congress Avenue Suite 400 & 500, Austin, TX 78704
Picture this: It's another day at work, but you're typing away at your office in one of the city's most iconic structures — an eye-catching, red granite high-rise in the vicinity of the State Capitol and Austin Convention Center. (Another benefit of working in such a high-profile building is having prestigious neighbors, such as Wells Fargo and Merrill Lynch.) If this sounds like you, you might want to book a tour at this stunning Spaces coworking office, located on the fourth and fifth floors of 111 Congress.
This property has 137 private offices and three meeting rooms on offer; fast and reliable Wi-Fi; and 56 parking spots reserved for members. Here, you can relax on the rooftop terrace or in any of the several breakout areas, or stretch your legs and work up a sweat in the nearby gym. Or, you can also have a moment to yourself as you sit on a bench under a tree and enjoy the waterfall in the sunken plaza. Moreover, getting around is easy, with a bus station located just outside the property and the downtown light rail station a short walk away, as well.
As you can see, coworking spaces in Austin reflect the city's uniqueness and vibrancy. They're also a testament to its enthusiasm for emboldening entrepreneurship and innovation throughout Texas. So, whether you're a startup looking to make your way onto the scene or an established business in search of flexible workspace solutions, Austin offers a wide range of coworking and shared spaces for all sizes and tastes.