Wal-Mart As Anchor…For Apartments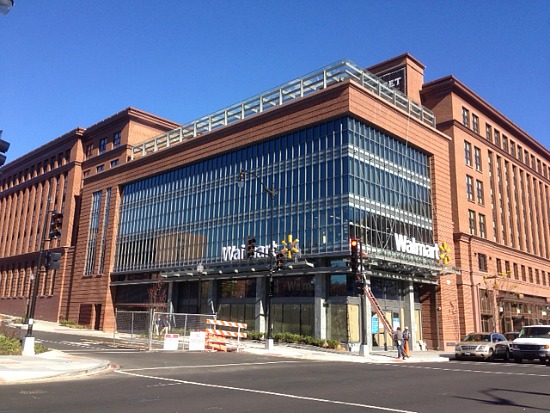 While I'm not sure if this is better imagined as news about a national urbanization trend or news about Walmart's relentless expansion into new urban territories, the fact remains that Washington, DC's two newest Walmart stores are a little different from what we're used to. Rather than massive stores anchoring shopping centers, they're sub 100k sq. ft. layouts serving as anchors for new apartment buildings.
The discount giant's two newest DC stores bring an announced 600 jobs total to the city, and one building at 77 H Street, sporting 303 apartments has already been marketed and sold to Clarion Partners for an undisclosed figure.
Take a look at a video of the interior of the 77 H Street store and take in the unusual sight of Walmart's unmistakable interiors and branding at the reduced scale of an urban anchor store.
The stores are Walmart's first in Washington DC.  The Walmart at First and H street runs 76,000 sq. ft and sports two floors of parking below-grade Walmart will officially open its first DC stores in two weeks. The locations on Georgia Avenue, and First and H Street NW will open their doors at 8am on December 4.
The 76,000 square-foot Walmart at 77 H Street NW (pictured above) will anchor a 303-unit apartment project. This location will have two floors of below-grade parking.
(Photo Credit: UrbanTurf DC)
Related articles